High-Balance VA Loans (Jumbo VA Loans)
Gustan Cho Associates are mortgage brokers licensed in 48 states
---
In this article, we will cover and discuss qualifying for high-balance VA loans in high-cost areas. High-balance VA loans are commonly referred to as Jumbo VA loans. We will cover everything about high-balance VA loans. The Department of Veteran Affairs no longer has a maximum loan limit on VA loans. However, VA loans that are higher than the 2022 conforming loan limit of $647,200 are called high-balance VA loans or Jumbo VA loans. The high-balance conforming loan limit for 2022 in high-cost areas is $970,800.
What Is The VA Max Loan Limit For 2022
While most lenders limit VA loan amounts to $647,200 without a down payment, the VA has no established loan limit. However, any VA loan higher than the conforming loan limit of $647,200 is called high-balance VA loans or Jumbo VA loans. You can borrow more than $647,200 with a VA loan without making a down payment and get 100% financing. Prior to the VA not having a loan limit, the down payment required was 25% of the difference between the purchase price and $647,200. Some borrowers finance over $1 million with VA home loans.
VA Jumbo Loan Limits For 2022
For $648,250 with a VA loan, your down payment would have been $25,000 prior to the VA removing the loan cap. The difference between the purchase price and $548,250 is $100,000, and 25% of that was $25,000. That used to be a down payment of less than 4% of the purchase price! However, the VA no longer has a down payment requirement on VA loans. Any VA loans with higher than a $647,200 loan limit are called High-Balance VA loans.
Prequalify for a VA home loan in about five minutes. 
VA Loan Jumbo Guidelines
There is no maximum loan limit for VA loans. VA loans greater than $647,200 are often referred to as high-balance VA loans or jumbo VA loans. Jumbo VA home loans require down payments, but even with down payments, VA loans are often the best deal around. The required down payment is 25% of the excess purchase price over $647,200. That usually results in a down payment that is very low considering the purchase price. In addition, there is no mortgage insurance requirement for VA financing. Finally, if you make a down payment of 5% or more of the purchase price, you pay a much smaller funding fee. A 10% down payment gets you an even lower funding fee.
What Are High-Balance VA Loans?
What are high-balance VA loans? First, understand that the VA does not set loan limits at all. The VA used to limit how much they are willing to guarantee. Most mortgage lenders set their maximum loan amount at four times the amount of the VA guarantee. So if the maximum guarantee is $137,062.50, the maximum most lenders will finance with no down payment is $647,200. Setting the maximum loan amount at four times the guarantee amount gives lenders a cushion in case they have to foreclose and sell the property. As long as 25% of the loan amount is guaranteed by the government, lenders are unlikely to lose money in a foreclosure sale. That 25% is an important number. By making a down payment of 25% of the excess loan amount, you are still providing the same level of protection to the lender that the VA does with its guarantee. High-balance or jumbo VA home loans exceed $647,200, Gustan Cho Associates are experts in originating and funding high-balance VA loans with loan balances between $647,200 to $1.5 million.
Benefits of Jumbo VA Loans
Homebuyers do not have to purchase homes in high-cost areas to qualify for a high-balance VA loan. They can purchase higher-end homes in any area with home prices higher than $648,200. Often, the down payment with a jumbo VA loan is lower than the down payment required for a conventional (non-government-backed) mortgage. Conventional jumbo loans usually require down payments of at least 10%. In addition, they require mortgage insurance payments every month. That can cost much more than the VA funding fee does.
Mortgage Rates on VA Loans
In addition, conventional loans come with higher interest rates and more expensive mortgage insurance if your credit score is not the highest. VA fees and rates do not have risk-based pricing adjustments. If your credit score is not sky-high, VA home loans can be much cheaper than other products.
High-Balance VA Mortgage Guidelines
Here are the minimum high-balance VA mortgage guidelines:
VA loans do not have minimum credit score requirements.
Underwriting guidelines for VA home loans are flexible.
There is a two-year waiting period requirement after foreclosure, deed in lieu of foreclosure, short-sale to qualify for a high-balance VA loan.
Borrowers in an active Chapter 13 Bankruptcy repayment plan can qualify for a high-balance VA loan.
There is no mandatory waiting period after Chapter 13 Bankruptcy to qualify for a high-balance VA mortgage.
VA loans can be manually underwritten.
There are no differences in agency mortgage guidelines between standard VA loans versus high-balance VA mortgages.
There is no maximum loan limit on VA loans.
Refinancing With VA Jumbo Mortgages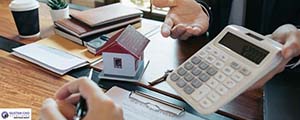 Homeowners with high-end homes can refinance with cash-out up to 90% of the property value. The maximum loan to value for traditional jumbo loans is 75% LTV.  VA loans require no annual mortgage insurance premium. VA funding fees are waived for disabled veterans and/or surviving spouses.  To qualify for a high-balance VA loan with a national mortgage company with no lender overlays, please contact us at Gustan Cho Associates at 800-900-8569 or text us for a faster response. Or email us at gcho@gustancho.com. The team at Gustan Cho Associates is available 7 days a week, on evenings, weekends, and holidays.
---