VA Jumbo Home Mortgages And Eligibility Requirements
This ARTICLE Is About VA Jumbo Home Mortgages And Eligibility Requirements
Most veterans are aware they do not need a down payment to purchase a home.
But there are many things Veterans are not aware of, such as the removal of loan limits for VA mortgage loans
Up until 2020, VA loan limits required down payment for any amount loan amount above the conforming loan limit
That limit was usually $510,400
Any amount over that would require a down payment of 25% of the difference between the loan amount and the FHFA county loan limit
However, this changed after the Blue Water Navy Vietnam Veterans Act of 2019 was signed into legislation by President Donald Trump
The Blue Water Navy Vietnam Veterans Act implemented the removal of the Low limits for VA mortgage lending
A veteran does not need a down payment to buy any home
In this blog, we will detail how to qualify for a VA Jumbo Home Mortgages with Gustan Cho Associates and how to apply for a VA jumbo mortgage
In this article, we will discuss and cover qualifying for VA Jumbo Home Mortgages And Eligibility Requirements.
VA Jumbo Home Mortgages And Eligibility Requirements: The Blue Water Vietnam Veterans Act
The Blue Water Navy Vietnam Veterans Act:
This act put in place some key benefits for our nation's veterans
Removing the loan limit will help thousands of veterans purchase and refinance homes in higher property value markets such as Denver, Colorado, or San Francisco, California
It is next to impossible to purchase a home below the FHFA loan limit in many areas of the country
Of course, for this to have sustainability, the VA will need more funding
The VA funding fee has increased in 2020
First-time use went from 2.15% up to 2.3%. Subsequent use went from 3.3% up to 3.6%
These increases will allow the U.S. Department of Housing and Urban Development (HUD) and the U.S. DEPARTMENT OF VETERANS AFFAIRS to continue to lend without loan limits
The increased funding fee was put in place for a two-year period and will be re-examined in 2022
We may see another increase to keep these loans available to our nation's veterans.
Importance Of Residual Income To Get AUS Approval On VA Jumbo Home Mortgages
Residual income is a major factor for every VA mortgage
Residual income must be passed in order to close any VA mortgage transaction
What is residual income?
Residual income is funds left over after paying monthly expenses including your housing payment
HUD guidelines want to make sure you have enough money to live your life and feed your family after your housing expense and monthly debts
While there is no set in stone debt to income requirement for VA mortgage lending, residual income must be passed 100% of the time
Residual income is based on area you live and family size
Obviously, different parts of the country have different costs of living
This is factored into your residual income requirements the larger your family is, the higher your residual income requirements will be.
VA Agency Guidelines On Debt To Income Ratios
There is no minimum credit score requirements on VA loans with an approve/eligible per automated underwriting system. There is no maximum debt to income ratio caps on VA loans as long as you can get an approve/eligible per automated underwriting system (AUS).
77% DTI automated approval:
As stated above, there is no set in stone guideline for VA mortgages and debt to income ratio
The lower your debt to income ratio the higher your chances requalification are
We strongly recommend you stay within your budget
Just because your loan is approved with a high debt to income ratio, does not mean that is the best decision for you and your family
You want to make sure you live with plenty of money outside of your housing payment
Being house poor is not a good situation for any individual or family.
See the DU AUTOMATED UNDERWRITING SYSTEM (AUS) below on a borrower who got an approve/eligible per AUS with a 77% debt to income ratio: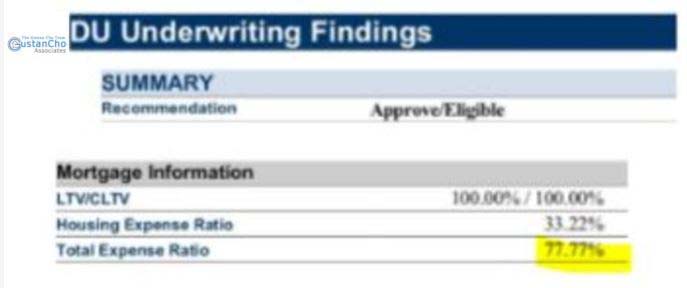 Applying for a VA jumbo home mortgage is no different than applying for your standard VA mortgage. The lending guidelines are no different because of the removal of the maximum VA loan limit cap. A veteran can borrow any amount of money without a down payment. Most of our wholesale lending partners can easily lend up to $3 million. However, there is a way to go higher. This gives our hard-working veterans a great opportunity to own a luxury primary residence.
Agency Guidelines On VA Jumbo Home Mortgages
The steps to apply are simple.
You will first call Mike Gracz and 630-659-7644
The borrower and Mike Gracz will discuss applying for the initial mortgage application and see if the borrower will meet the VA agency guidelines
Assuming the criteria is met, Mike will send you a link from a licensed loan officer in your state
This application link will be the start of the process
As soon as you fill the information out, you will want to send in the following documentation
When your loan officer receives your documentation and your application, they will run your credit report
Assuming everything checks out and you qualify for a VA mortgage loan
Your loan officer will then tell you the maximum payment you qualify for
As mentioned above, you must pass your residual income requirements
Qualifications will be different for each veteran based on family size and area of the country
Assuming you passed residual income, you can buy a home for any amount without a down payment
Many veterans live in parts of the country where homes are quite expensive such as San Francisco, California, Denver, Colorado, Naples, Florida, Chicago, Illinois
The removal of the loan limit was put in place to not limit where veterans can buy a higher-end home without a down payment.
Getting Started To Qualify For VA Jumbo Loans With A Lender With No Overlays
The majority of VA mortgage lenders have LENDER OVERLAYS. The good news is, Gustan Cho Associates do not have lender overlays on any of their mortgage products. This includes a loan limit overlay. Most lending institutions will cap their VA mortgage loans at $1 million. We do not. Gustan Cho Associates can go well above that number. Most of our wholesale lending investors will go beyond the $3 million mark. We do have ways to go even higher. With today's low rate environment, veterans can qualify for a higher-pricedd home. Gustan Cho Associates are experts in VA mortgage lending. If you or a veteran friend are having difficulty qualifying for a VA mortgage, please send them to Gustan Cho Associates. We are available seven days a week to answer your question surrounding VA mortgage guidelines. There is a lot of contradicting information on the internet surrounding VA mortgage lending. Most of this information has to do with specific lender overlays. Remember, we do not have lender overlays to get in our way. Michael Gracz and the team at Gustan Cho Associates look forward to helping you and your family purchase your next home with a VA mortgage loan.