This Article Is About Steps To Buying Your First Home During A Booming Housing Market
Buying your first home during a booming housing market can be quite challenging. Many would-be homebuyers often get discouraged proceeding with a new home purchase when competition for homes is at historic highs. Gustan Cho Associates are experts in helping first-time homebuyers qualify for a mortgage and advise them in the overall home buying process on their first home purchase. Gustan Cho Associates has dozens of mortgage loan programs for first-time homebuyers, homebuyers with bad credit, and self-employed borrowers. There are several steps for homebuyers to take prior to shopping for a home. We will discuss and cover the steps to buying your first home during a booming housing market.
Steps To Buying Your First Home: Am I Ready To Purchase A New Home
One of the first steps to buying your first home is to carefully think about whether or not you are ready. Homeownership comes with many benefits but also responsibilities. Renters can always not renew their lease and relocate anywhere or even out of state. However, as a homeowner, it takes time for you to sell your home. Real estate agents will want to know that you are pre-approved before they will show you homes that are available. The first step you should take is to consult with a loan officer and see if you qualify for a mortgage. The loan officer will go over your financials and credit report and tell you the type of loan programs you qualify for. The loan officer will tell you the down payment and closing costs required on the particular loan program. If you do not quite qualify for a mortgage, the loan officer will show you steps in getting your credit fixed so you will qualify for a mortgage in the coming weeks or months.  Buying a home is most people's largest investment in their lifetime. Benefits of homeownership include potential appreciation, security of not being asked to leave, and not being under the control of a landlord. It is your property. You can do anything as you please. You can get pets without asking for permission. You can decorate the home to your tastes without landlord approval.
How Much Can I Afford Versus How Much Can I Qualify
One of the things you need to consider is how much you can afford versus how much you qualify. Just because you get pre-approved for a certain loan amount does not mean that number is how much you can afford. Everyone has different lifestyles and expenses. You may have childcare, elder care, educational expenses, hobbies, or other expenses that the lender may not know about. Certain expenses are not counted by the lender when qualifying for a mortgage. Another thing homeowners need to take into consideration is repairs. Homeowners are responsible for their own repairs. Some home repairs can be costly and run into thousands of dollars. As a homeowner, you are responsible for leaky toilets, plumbing, and electrical repairs, roof repairs, and HVAC repairs. Homeowners are responsible to pay property taxes, homeowners insurance, and landscaping expenses. Having a substantial reserve is a must for new homeowners. You do not want to live paycheck by paycheck and have too much house. Before meeting with a loan officer, go over your expenses and monthly budget. Go over your budget with the loan officer when getting qualified for a mortgage.
The Importance Of Getting Qualified For A Mortgage
You do not need perfect credit and/or high credit scores to qualify for a mortgage. Homebuyers also do not need a large down payment. Homebuyers can qualify for a mortgage with lower credit scores and prior bad credit, a prior bankruptcy, and/or foreclosure. If you have lower credit scores and/or prior bad credit, you may want to hire a lender with no lender overlays on government and/or conventional loans. Not all lenders have the same lending requirements on FHA, VA, USDA, and conventional loans. For example, HUD requires a 580 credit score on a 3.5% down payment FHA loan. However, most lenders will require higher credit scores than the minimum HUD agency guidelines which are called lender overlays. VA and USDA loans offer 100% financing.
The Right Mortgage Program That Benefits You
There are a wide variety of mortgage loan programs. Borrowers who do not qualify for a traditional government and/or conventional loan program can qualify for non-QM and/or alternative mortgage loan programs. Gustan Cho Associates offers special loan programs such as no-doc home mortgages, bank statement loans, non-QM loans one day out of bankruptcy and foreclosure, asset-depletion mortgages, and other alternative non-traditional loan programs. Each particular mortgage program has its own lending requirements on the down payment and closing cost requirements. You can qualify for a mortgage with prior bad credit, and lower credit scores. However, the higher your credit scores and a good credit profile means you have more options for the best rates and best loan programs. Non-QM loan programs are very popular for borrowers who do not qualify for traditional mortgage loan programs. Homebuyers can now qualify for a non-QM mortgage one day out of bankruptcy and foreclosure with a 30% down payment. Many people recover sooner than others after a bankruptcy and/or foreclosure.
How Much Down Payment Do I Need To Purchase A Home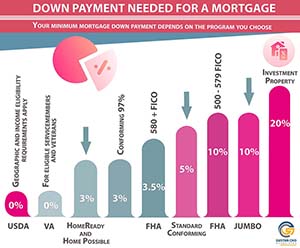 The down payment required depends on the individual mortgage loan program. VA and USDA loans do not require any down payment. Lenders will offer 100% financing on VA and USDA loans. FHA loans require a 3.5% down payment on a home purchase loan. Borrowers can qualify for an FHA loan with credit scores under 580 and down to a 500 FICO with a 10% down payment. Non-QM loans require a 20% down payment. Fannie Mae and Freddie Mac require a 3% down payment on conventional loans for first-time homebuyers. A first-time homebuyer is a homebuyer who has not had any ownership of a home in the past three years. Otherwise, conventional loans require a 5% down payment on a home purchase. Gustan Cho Associates has no-doc mortgages available for primary homes. We also offer 90% LTV jumbo mortgages with credit scores down to 660 FICO and up to a 50% DTI. The down payment can be gifted. All mortgage loans have closing costs. In the next paragraph, we will discuss closing costs.
Closing Costs On A Home Purchase
All home purchase and refinance transactions have closing costs. The amount of closing costs depends on several variables. A loan officer can structure a home purchase transaction where the seller can pay closing costs with a seller concession towards buyers closing costs. What this means is the seller will add the closing costs on top of the amount the seller wants for the home. FHA and USDA loans allow up to a 6% seller concession, VA loans allow up to a 4% seller concession, and Conventional loans allow up to a 3% seller concession. Non-QM loans and jumbo loans allow seller concessions. However, the amount of seller concession is determined by the lender. If the borrower is short of closing costs with a seller concession, the lender can offer a lender credit to cover the shortage of closing costs in lieu of a higher rate for the borrower.
Steps To Buying Your First Home: The Importance Of Finding A Good Real Estate Agent
Once you are armed with a solid pre-approval letter, you can now start shopping for a home and enter into a purchase contract. Finding a great real estate agent with who you can get along is key. You should get along with the agent. The agent should listen to your needs and always return your calls and/or emails promptly. The agent should be familiar with the area and the amenities of the neighborhood. The real estate agent should have many years of experience and be an expert negotiator. The realtor should be a full-time realtor and be available 7 days a week. Check the online reviews and references. The real estate agent should be able to work well with your loan officer. Once you have entered into a real estate purchase contract, the loan officer takes over and starts processing the loan.
Home Inspection And Appraisal
A home appraisal is mandatory. A home inspection is optional. It is strongly recommended homebuyers get a home inspection. Home inspections normally cost $300 to $700 which is a great insurance policy. Many homebuyers who want to save a few bucks and forego the home inspection are playing with fire. One recent homebuyer did not have a home inspection. Turns out the house was infested with termites and the basement flooded during heavy rainstorms. Home inspectors are trained to look for hidden problems in homes. Some of the problems inspectors can find are mold, termites, flooding issues, foundation defects, structural, roofing, and HVAC. Some of the problems inspectors find can be used as a negotiation tool with the seller in lowering the purchase price. Other problems such as structural issues may not be worth proceeding with the home purchase and taking a pass.
Earnest Money Deposit
Once you enter into a purchase contract and both sides agree on the price, the buyer needs to put in an earnest money deposit. The earnest money is held in escrow by the title company, real estate attorney, or other third-party authorized parties. The earnest money is refundable if the buyer backs out of the deal during the contingency period of the home purchase agreement. Contingencies include the home inspection not being satisfied, the home appraisal not coming in at value, not getting financing or other items listed in the contingency agreement. The earnest money normally goes toward the buyer's down payment at closing.
Steps To Buying Your First Home: Understanding The Mortgage Process
Your loan officer should be the main point of contact during the mortgage process. However, there are going to be other mortgage professionals borrowers will be in contact with. Many companies will have loan officer assistants to help the loan officer. Borrowers will get assigned to a mortgage processor. The processor will be in touch with borrowers with regard to conditions or other documents needed to proceed with the loan. Borrowers will never have any contact with the mortgage underwriter. The loan officer is the quarterback throughout the overall mortgage process from the time of application until the closing. Borrowers should be able to contact their loan officers 7 days a week if they have any questions.
The mortgage process should last 30 days. Borrowers should learn the basics of the mortgage process. The loan officer should explain the steps in the mortgage process especially when it comes to mortgage underwriters requesting conditions. The mortgage process does not have to be stressful if the borrower knows the steps of the mortgage process. There are instances where the underwriter can ask multiple rounds of conditions. The best advice is just to comply and give the underwriter what they need. Some of the conditions may be very silly. Regardless, the underwriter's job is to make sure the lender is able to sell the loan they fund on the secondary market. This is the reason why they are so anal. Once the borrower has met all conditions of the underwriter, the mortgage underwriter will issue a clear to close.
Steps To Buying Your First Home: The Closing
A clear to close is when the lender is ready to prepare the closing docs and wire the money to the title company. The closing is where the buyers, sellers, and third-party professionals all meet to transfer ownership from the seller to the buyer. The closing is where the title changes hands and the buyers get the keys to their new home. The lender will send the closing docs and wire the funds to the title company.