This ARTICLE On Negative Interest Rates To Spread To The U.S. Per Alan Greenspan Was PUBLISHED On September 5th, 2019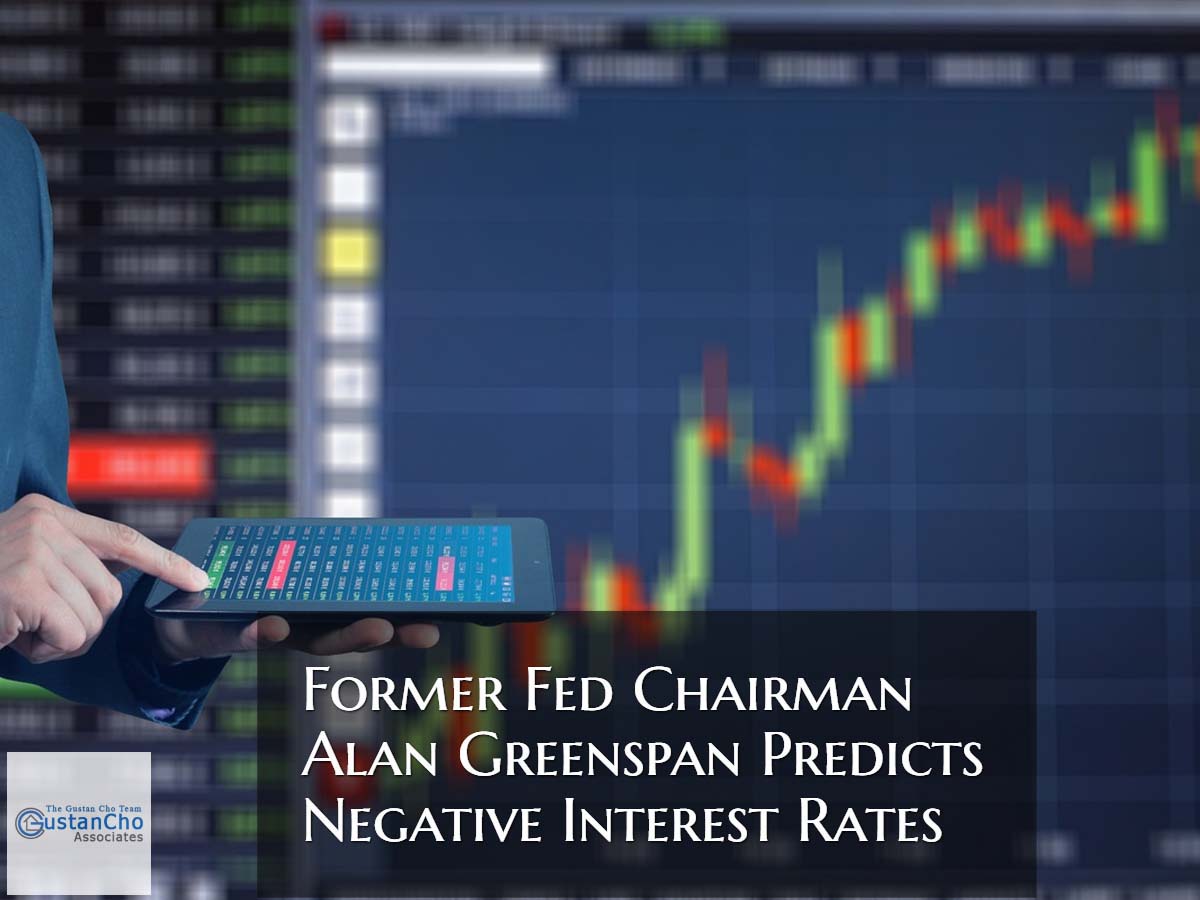 BREAKING NEWS: Negative Interest Rates To Spread To The U.S. Per Former Fed Chairman Alan Greenspan
Former Federal Reserve Board Chairman Alan Greenspan announced that Negative Interest Rates will be on the horizon for the U.S. Alan Greenspan issued the following statement on Wednesday, September 4th, 2019:
You're seeing negative interest rates pretty much throughout the world. It's only a matter of time before it's more in the United States. There is currently more than $16 trillion in negative-yielding debt around the world as central banks try to ease monetary conditions to sustain the global economy. Negative rates signify the world population is aging It will not be long before the spread of negative interest rates reaches the U.S.
Alan Greenspan added that investors should carefully keep an eye on the 30-year Treasury yield. The 30-year Treasuries hit an all-time historical low a week ago. On Wednesday, September 5th, 2019, the 30-year U.S. Treasuries were trading at 1.95%.
In this article, we will discuss the breaking news of Negative Interest Rates announced and predicted by Former Fed Chairman Alan Greenspan.
The Global Economy Today
There is uncertainty in the global economy. World Trade Talks with the United States are making investors nervous.
To add fuel to the fire, many investors are worried about the Trump Tariff Talks, especially with China
The U.S. economy has been on fire
Many are worried about a potential recession hitting the U.S.
The housing market has been going up with no signs of a housing correction
Both HUD and the Federal Housing Finance Agency (FHFA) has increased FHA and Conventional Loan Limits for the past three years
There is no longer a cap on VA Loans
Many experts worry about another housing market crash, similar to the one we had in the 2008 Housing Bubble Crash
Due to the rapidly increasing home prices, HUD reduced the maximum loan to value on cash-out refinances to 80% from 85% on FHA Loans
The Department of Veterans Affairs (The VA) made a similar move where it reduced the LTV from 100% to 90% on cash-out refinances on VA Loans.
The U.S. Versus The World Economy
The U.S. economy has never been as strong as it is today.
The stock market is at a historical high. The housing market is approaching its historical high
Many critics of the Trump Administration are predicting another second Great Recession and are preaching that the U.S. is long overdue for a recession
It seems like President Trump is running the U.S. like a business and getting along with World leaders
Unemployment numbers are at historic lows
Major corruption in local, county, state, and federal government are getting discovered, investigated, and prosecuted
Many homebuyers and homeowners who have been on the sidelines are pulling the trigger in purchasing a home and/or refinancing their current mortgages.
What Experts Say About Economy And Interest Rates
Michael Gracz, the National Sales Manager at Gustan Cho Associates and a world market expert and former investment banker said the following:
There are currently more than $16 trillion in negative-yielding debt instruments around the world as central banks try to ease monetary conditions to sustain the global economy. The 10-year sovereign bonds in Belgium, Germany, France, and Japan — among others — are trading with a negative rate. U.S. Treasury yields are still well within positive territory, but the Fed has already cut rates once this year and is expected to ease later this month. Market expectations for a rate cut in September are at 92.7%.
According to Alan Greenspan:
An aging population is driving demand for bonds, pushing their yields lower. We're so used to the idea that we don't have negative interest rates, but if you get a significant change in the attitude of the population, they look for coupon. As a result of that, there's a tendency to disregard the fact that that has an effect on the net interest rate that they receive. Gold prices have been surging recently because people are looking for "hard" assets they know are going to have value down the road as the population ages. Gold futures are up more than 21% in 2019 and are trading around levels not seen since 2013.
The former Fed Chairman spoke on Wednesday, August 4th, 2019 after New York Fed President John Williams spoke on the topic of how low inflation is the problem of today.
Breaking News just hit moments ago about mortgage interest rates being down a full 1.0% at 3.48%. We will be writing about this breaking news shortly. For more information about this topic and/or other mortgage-related topics please contact us at Gustan Cho Associates at 262-716-8151 or text us for faster response. Or email us at gcho@loancabin.com.