---
In this guide on Gustan Cho Associates, we will keep our viewers updated on the recent real estate and mortgage market forecast that may affect you. The stock market has shown a Wild Roller coaster ride in the last couple of weeks, especially for the week of June 2022. Many experts are asked whether mortgage rates will be sliding downwards in 2023. The consensus among housing and mortgage experts all unanimously concur rates and housing pricing will drop in 2023.
Inflation continues to soar to record-breaking numbers. Gas still remains high. The car parts shortage continues. Mortgage rates are surpassing the 7% mark. Just a year ago, rates were at 2.5% on 30-year fixed-rate mortgages. The good news is home prices seem to start decreasing.
What Factors Affect The U.S. Housing Market?
The housing market in the U.S. is not too healthy. Whenever home prices increase by almost 50% in a span of three years, that is not a good sign. The demand for housing and rates spiraled out of control from 2.5 June 2021 to 7.125% today, there is no equilibrium not just in the housing and mortgage markets but in the overall economy.
The main reason many economists say is due to the growing concern that the Chinese economy is cooling considerably. The Chinese government has recently lowered interest rates. The move affected the real estate and mortgage market forecast dramatically as a way to boost foreign investment and deter inflation. Commercial construction in China grew to levels much higher than our residential boom of ten years ago In this article, we will discuss and cover real estate and mortgage market forecast and effects In Housing.
Is The U.S. Housing Market Cooling Down?
If you have been following the news, then you are well aware that interest rates have hiked exponentially since the beginning of 2022. Just 12 months ago, the average 30-year fixed mortgage rate was right at 3%.
Today that number is over double, nearly 7%!! This has created ripples in the national and local economies. As a whole, mortgage applications and real estate transactions are significantly down year over year because of these rate hikes. Also, over the past few years, we have seen rapid home price appreciation across the nation. High prices of homes accompanied by high-interest rates have really cooled down the real estate market.
Buying a House in the Sellers Versus Buyers Market
We will now detail buying a home in a sellers' market compared to a buyers' market. Buying a home in a seller's market is always a challenge. During the COVID-19 coronavirus pandemic, we saw a very strong sellers' market in most of the United States. Many individuals now working remotely, and many families want to move closer to family members.
The demand for homes was extremely high. Due to the economic health of the country during the pandemic, the federal reserve dropped the overnight interest rate to 0%. So, we had a perfect storm of high demand and record-low interest rates. This created a boom in the housing market and even created bidding wars across the nation.
What Makes a House Offer Stand Out?
How to make your real estate offer stand out in a buyers' market and sellers' market. Buying a home in today's market can be challenging. Gustan Cho Associates are on the front line of the current real estate market and are here to help you navigate the waters.
In this blog, we will detail how to purchase a house in a buyers' market, how to buy a house in a sellers' market, and a few new tips and tricks for navigating current market conditions. These are crazy times we live in but please note there are still ways to buy a home in a financially savvy way.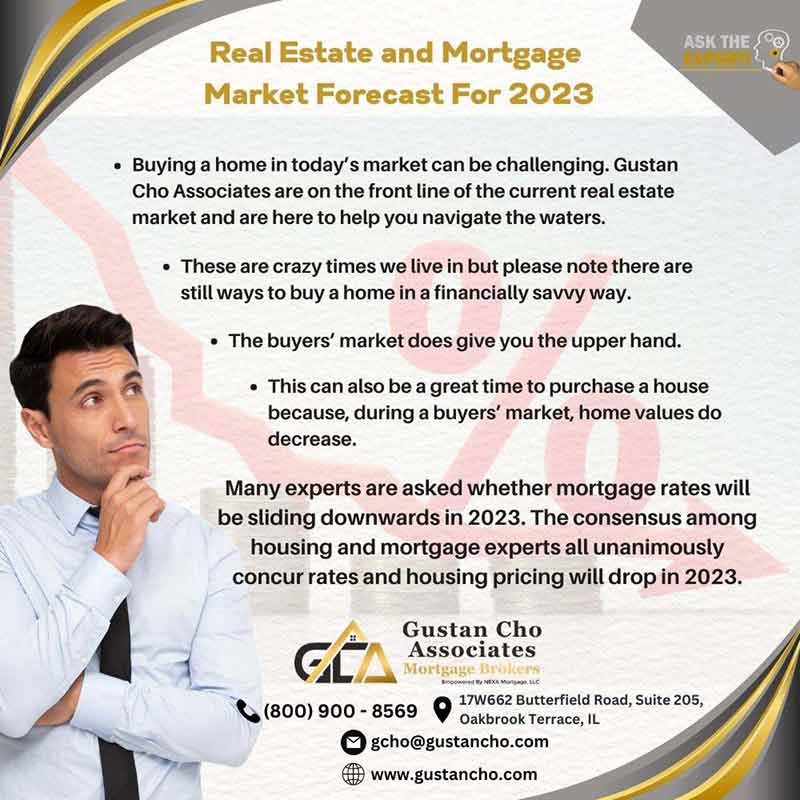 What Happens on Bidding War on a House?
What is a bidding war? A bidding war is a competition between numerous potential homebuyers increasing their offers to win the deal. Meaning, a home would commonly sell for over the asking price.
Because many Americans were able to sell their home for such high amounts, many people did decide to sell. In fact, during February 2022, properties spent an average of 18 days on the market and realtors reported an average of 4.8 offers on every home sold. Many Americans were able to sell their home and walk away with a large chunk of change.
Real Estate and Mortgage Market Forecast Today
Vacancy, looming debt, and lower imports, due to rising wages for traditionally low-cost manufacturing, have all contributed to a slow economy. The US, on the other hand, grew at 3.7 percent 2nd the quarter, which was higher than most expected. Inflation has soared causing the Federal Reserve Board to increase rates sending rates to all-time highs.
This presents a scenario where our economy grows, and theirs shrinks. Our mortgage bond debt may have to be liquidated to raise capital for their financial issues. Higher interest rates may result.
Real Estate and Mortgage Market Forecast If Rates Continue To Increase
If rates do rise, what can we expect? Purchasing power will diminish as the cost to borrow will rise. If the short terms have risen, or if student loan rates go up, we can expect a smaller pool of buyers in the first-time buyer market who still owe student loan payments. The long-awaited question is whether will wages rise. We have been in a relatively flat wage environment for some time, as the benefit-cost of insurance and unemployment continue to rise past the pace of
inflation
In some states, like Illinois, Rhode Island, California, ad Mississippi, pension obligations and Medicaid fulfillment costs are bankrupting states. Mismanaged states that took more out, than put in are getting a major financial burden translating taxpayers need to fulfill the deficit. In Illinois for instance, they have lost many high earners who have moved to warmer climates with more favorable tax rules.
Real Estate and Mortgage Market Forecast on Housing Inventory
The month of July saw a rise in
closings
, but a slowdown in new contracts as school is starting again, and turn times had to be normalized back to a manageable level for lenders and appraisers. With the upcoming changes to closing disclosure waiting periods(3 days), expect a push from industry professionals to get tons of contracts in with on-the-fence buyers and sellers before the October 3 deadline.  Stay tuned for more real estate and mortgage market forecast.
Can You Negotiate the Price of a House in Sellers' Market?
How to purchase a house in a sellers' market. Below are some tips for making your offer stand out in a multiple-offer situation. You may want to offer the above asking price to show how serious you are.
If you are going to use a mortgage, you will want to close as fast as possible or at least offer the seller a quick closing. Gustan Cho Associates are able to facilitate a very quick closing date to help your offer win. Just because you offer a fast closing doesn't mean you need to be firm; you can also be flexible.
How To Negotiate With Seller To Accept Your Officer in Sellers Market
Giving the seller the choice of when to move will help your offer stand out. You will also want to put down a large earnest money deposit. A larger deposit gives the seller more confidence in your offer. Remove contingencies such as appraised value and inspection contingencies.
This will mean the seller does not need to worry if the home appraises for less than you are willing to offer (you will need to make the difference up in cash out of pocket, in the event the home appraises for less than the contract price). It will also ensure they do not need to complete any repairs on the home to close the transaction.
Can You Get Seller Concession During Sellers Market
Unfortunately, in a sellers' market, asking for seller-paid closing is next to impossible. So, seller concessions at zero dollars are a must. In the sellers' market we just experienced, many clients were even writing a letter to the seller explaining why the home is a great fit for them and their families.
Creating an emotional tie for their home being passed down is a great way to have your offer accepted.
Do Sellers Always Pick The Highest Offer for Their Homes?
Many sellers are not inclined to sell their houses to a real estate investment firm. They would much rather sell to a new family who is going to appreciate the home for many years to come. Buying a home in a sellers' market can be pure chaos.
Having your finances as strong as possible will help you navigate this process. For more information on buying a home in a sellers' market, please call Mike Gracz at 630-659-7644 or email mike@gustancho.com. Our team is here to assist you with your mortgage needs.
Buying a House During a Buyer's Housing Market
In this section, we will cover and discuss buying a home in a buyers' market. This is much easier compared to a sellers' market. While we are not in a true sellers' market at this time, we are definitely turning tides. A buyers' market occurs when there is ample inventory and low demand. Due to the interest rate hikes, we are starting to see a turn into a buyers' market. Inventory has gone up subsequently since the beginning of summer across the nation. Homes are now staying on the market much longer compared to months past.
What Benefits Do Homebuyers Have in a Buyer's Market
The buyers' market does give you the upper hand. There are now fewer bidding wars which will eliminate an extra layer of competition in your homebuying process. This can also be a great time to purchase a house because, during a buyers' market, home values do decrease.
So, we are starting to see some pretty significant price reductions across the nation. Since you know may have the upper hand in buying a home, you can ask for more from the seller.
What Characterizes a Seller's Market
There will now be more contingencies on a contract because sellers are more inclined to offer incentives. Many sellers need to get out of their current homes for family or financial reasons.
It is important to work with a highly motivated real estate agent who is willing to fight for you. Since a sellers' market will offer you incentives such as seller played closing costs, you may keep more money in your pocket during the home-buying process.
What Are Common Buyer Contingencies
As a buyer in a buyers' market, you may also include contingencies in your contract such as an appraisal contingency. Meaning if the home does not appraise for the agreed purchase price, you will get your earnest money back and be able to purchase a different home.
The seller will be enticed to sell you the home at a lower price. You may also add inspection contingencies where a seller must fix major issues before moving forward with the transaction.
How Much Can You Negotiate In a Sellers Market
During a sellers' market, most home buyers are forced to purchase the home "as-is". During a sellers' market, you may require the seller to fix a major item such as a furnace, roof, visible damage, or other major appliance.
If you start to notice more open house showings and homes being on the market for a longer period of time, this may be an indication that the seller is motivated to work with you on the transaction.
Is a 2-1 Buydown Mortgage Worth It?
Your real estate agent can help search for homes that have been on the market for longer periods of time.  As mentioned at the beginning of this article, we are offering tips and tricks to navigate a buyers' market. Recently lenders have started to offer a 2-to-1 buydown which must be financed by the seller.
A 2-to-1 temporary rate buydown will lower your interest rate as the buyer for the first two years you are in the home. For year one, your interest rate will be decreased by 2%. During the second year of your mortgage, your interest rate will be lowered by 1%.
How Many Points Does a 2-1 Buydown Mortgage Cost?
For example, if you purchase a home in market conditions at 7.75%, in the first year of your mortgage you will only pay 5.75%, and in the second year of your mortgage, you will only pay 6.75%. Then, starting in your third year, your rate is back to the original rate of 7.75%.
Your monthly payments will be lower for the first two years to help you step into home ownership.
How Does The 2-1 Buydown Mortgage Work?
In order for this 2-to-1 buydown mortgage process to work, you must have the seller fund the missing interest payments negotiated on the contract.
This 2-to-1 temporary rate buydown will give you some relief on interest payments during these crazy economic times. For more information on how to negotiate the seller-paid interest payments on your contract, please reach out to Gustan Cho Associates.
Who Can Pay For The 2-1 Buydown Mortgage?
Your real estate agent will need to add specific verbiage to your contract. We can assist homebuyers when writing the real estate purchase contract offer.
Gustan Cho Associates will continue to update our readers on current market conditions and tips to navigate the current real estate market. We are constantly adding mortgage loan programs to our long list of mortgage options.
Best Mortgage Lenders For Bad Credit and Low Credit Scores
We are licensed in 48 states and are always looking for a competitive edge to help our clients save the most amount of money possible. Buying a home can be scary, exciting, expensive, and fruitful all at the same time. Having a mortgage team who can guide you through the process is incredibly important.
Our team of highly skilled experts is available seven days a week to help you with any mortgage-related questions. For any general mortgage questions or assistance navigating current market conditions, please call Mike Gracz at 630-659-7644 or email mike@gustancho.com. Our team has seen a lot of turmoil in the past 15 years and is here to help you make a decision that is best for you and your family!
---