New Jersey Housing Market Stronger Than Expected For 2022
Gustan Cho Associates are mortgage brokers licensed in 48 states
In this blog, we will cover and discuss the New Jersey Housing Market. New Jersey has the highest property tax rate in the nation but that is not slowing down home sales and home prices. New Jersey Housing Market is expected to be stronger than expected in 2022. New Jersey Housing Market has been growing year after year since 2013 despite high property taxes. New Jersey has the highest property taxes in the nation followed by Illinois. 
New Jersey Housing Market Is Skyrocketing With New Residents and Businesses Migrating From Neighboring New York
New Jersey is attracting tens of thousands of residents fleeing New York. New York finances are a mess. Governor Cuomo, NYC Bill de Blasio, and newcomer Democrats such as Alexandra Ocasio-Cortez may be great talkers and crowd pleasers, but they do not seem to know how to run a government. Alexandra Ocasio-Cortez (AOC) recently ruined the relocation of Amazon's second-world headquarters relocation possibilities to Queens. This cost the state nearly 40,000 high-paying jobs.  New York faces a $2.3 billion dollar shortfall. Tens of thousands of residents are leaving New York to other states with a low cost of living.
Why New Yorkers Migrate To New Jersey
Many who work in New York are moving to New Jersey due to the lower cost of living. Property taxes are higher in New Jersey but home prices are more reasonable. New Jersey does not face the financial disaster New York does. Despite having the highest property taxes in the nation, New Jersey's demand for homes is stronger than ever. In this blog, we will discuss the New Jersey Housing Market and how strong it is for 2021.
New Jersey Housing Market Expected To Be Stronger Than Expected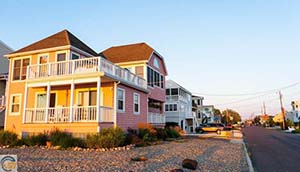 The New Jersey Housing Market has enjoyed countless New York residents moving to their state. Now with the financial mess New York is in, more and more home buyers are crossing the border to New Jersey from New York. To add the fuel to the fire, the demand is increasing due to lower mortgage rates and lenders launching new loan programs like NON-QM loans, bank statement loans for self-employed borrowers, and other alternative financing programs. There is more demand for housing in New Jersey than there is inventory. This is creating a stronger than expected demand on the New Jersey Housing Market for 2021. Housing prices are still lower in New Jersey versus New York. Many wage earners from New York are leaving the state for New Jersey. You can get more house for the money in the state of New Jersey versus New York.
What Locals Say About New Jersey
Alex Carlucci, an Associate Contributing Editor, and Loan officer at Gustan Cho Associates, grew up in New Jersey. Alex has strong ties there. Gustan Cho Associates is a lender licensed in multiples states with no overlays on government and conventional loans licensed in New Jersey. Massimo Ressa issued the following statement about his analysis on the New Jersey Housing Market:
Increased demand, plus a shortage of inventory, paved the way for a strong real estate market in New Jersey in 2018. A 5 percent increase over 2017, the median sales price in the Garden State for a single-family home in 2018 was $315,000. Homes spent an average of 65 days on the market in 2018, compared to 72 a year prior. This falls in line with the current inventory situation the market is seeing, which is consistently low. In December 2018, the analysis shows, there were fewer than 30,000 single-family homes for sale throughout the state, a 10.4 percent decrease over December 2017. While the winter months often see fewer homes for sale due to the season, the year-over-year decrease is a continuation of a trend that has been occurring for several years. New listings for the entire market — single-family homes, townhouses, condos, and adult communities — increased 1.2 percent in 2018. The count of closed sales presented no statistical difference from year to year. In 2018, 83,152 single-family homes were sold. Home prices will continue to rise in 2021, by a few percentage points at most. While nicer weather is likely to bring out more prospective buyers, home sellers are advised to list their home between late January and March, as long as it's "organized and ready for market. Many times you're positioned better when there's less inventory up for sale.
A large percentage of our borrowers at Gustan Cho Associates are New Jersey homebuyers. We have seen a sharp increase in buyers applying for mortgages throughout the state of New Jersey.  Despite the state having the highest property taxes in the nation, the housing market in New Jersey remains strong. There are more buyers than an inventory of homes throughout the state of New Jersey.