How To Cancel PMI On Conventional Loans For Homeowners
This BLOG On How To Cancel PMI On Conventional Loans For Homeowners Was PUBLISHED On November 8th, 2019
Mortgage Insurance is required on FHA Loans, USDA Loans, and Conforming Loans with less than 20% equity.
There are two types of mortgage insurance:
Upfront mortgage insurance
Annual mortgage insurance
In this article, we will cover and discuss Strategies On How To Cancel PMI For Homeowners.
Types Of Mortgage Insurance
FHA has both an upfront FHA mortgage insurance premium of 1.75% and an annual FHA MIP of 0.85%.
VA does not have an annual mortgage insurance premium
VA does require an upfront VA Funding Fee of 2.15% to 3.3% which can be rolled into the VA Loan Balance
USDA Home Loans has a monthly mortgage insurance as well as an upfront mortgage insurance premium called a Guarantee Fee
Government Loans such as FHA and USDA require annual mortgage insurance premium for the life of the term of the loan
Fannie Mae and Freddie Mac allows homeowners to have their annual private mortgage insurance removed once homeowners has more than 20% equity in their homes
There are steps on how to cancel PMI on conforming loans.
What Is Private Mortgage Insurance
Homeowners pays for private mortgage insurance.
However, private mortgage insurance has no benefits to homeowners
Lenders require for homeowners to pay for mortgage insurance to insure lenders in the event homeowners ever default on their home loans and the property goes into foreclosure
The private insurance company will insure the lender on part of their losses due to the home loan default
Private Mortgage Insurance, often referred to as PMI, is mandatory on all conforming loans with less than 20% equity
Home Buyers who put 20% down payment on a home purchase, lenders do not require private mortgage insurance on conventional loans.
How To Cancel PMI On Conforming Loans
Any home purchase with less than 20% down payment on conventional loans require private mortgage insurance.
Good thing about conforming loans is there are ways on how to cancel PMI if homeowners have more than 20% or more equity during the term of their loan
Home Buyers who are conventional mortgage borrowers can avoid annual private mortgage insurance by going with Lender Paid Mortgage Insurance (LPMI) in lieu of higher mortgage rates
However, the higher rates in lieu of Lender Paid Mortgage Insurance may not be a wise choice for borrowers with lower credit scores
There is another conventional loan program on how to cancel PMI on a home purchase and avoiding annual mortgage insurance
There is upfront private mortgage insurance where by paying a large one time upfront private mortgage insurance, there is no monthly mortgage insurance and the mortgage rates do not need to be higher.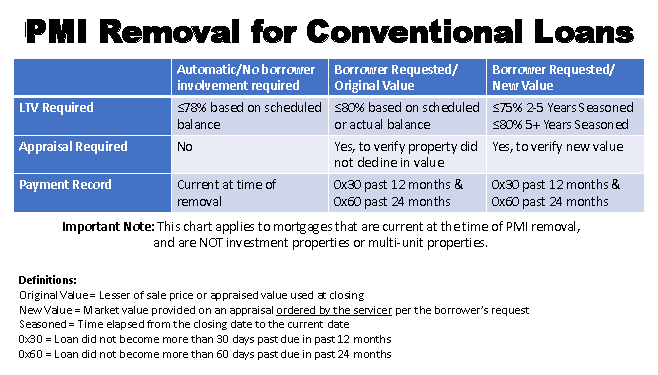 Strategies On How To Cancel PMI For Home Buyers
Gustan Cho Associates Mortgage Group are experts in finding unique creative Strategies On How To Cancel PMI For Home Buyers.
Fannie Mae and Freddie Mac does not require private mortgage insurance on conforming loans as long as home buyers can put 20% down payment
There is 80/10/10 Piggyback Mortgages offered at GCA Mortgage Group
Using these Strategies On How To Cancel PMI For Homeowners can benefit home buyers in saving thousands of dollars
The way this works is getting a first mortgage at 80% loan to value, put 10% down payment, and get a second mortgage/HELOC for the difference
This way, homeowners get to avoid paying private mortgage insurance on conforming loans
Once the property value increases, homeowners can do a 80% LTV refinance and pay off the second mortgage.
How Much Is Private Mortgage Insurance

Government Loans have fixed set mortgage insurance premium.
However, with conventional mortgages, private mortgage insurance varies depending on borrowers credit/income profile and types of property
The way private mortgage insurance companies quote PMI is based on borrowers and property risk factors
The lower borrowers credit scores, the lower the down payment the higher the private mortgage insurance premiums will be.
3% Down Payment Conventional Loan Programs
Fannie Mae and Freddie Mac offers 3% down payment conventional loans.
However, not too many private mortgage insurance companies will insure borrowers with 620 credit scores on 97% LTV Conventional Loans
The more safer and secure the private mortgage company feels about a borrower, the lower private mortgage insurance premiums will be
On a $300,000 home purchase with a 740 credit borrower, PMI on 3% down payment can be $200.00 per month
However, if the same borrower were to put 5% down payment, PMI will drastically get reduced to $90.00 per month
The extra 2% down payment greatly reduces the risk factors for the lender and it is reflected on the lower PMI premiums.
Private Mortgage Insurance Versus High DTI
On another note with conforming loans, Automated Underwriting System will render an approve/eligible per AUS Findings on conventional loans up to 50% debt to income ratios. However, most private mortgage companies will not insure any borrowers with credit scores under 700. Higher credit score borrowers with higher debt to income ratios would need 700 credit scores to qualify for conforming loans if they are putting down less than 20% down payment.
Cases Where Home Buyers Need To Choose Conforming Versus FHA Loans
There are instances where home buyers need to go with conforming versus FHA Loans.
If consumer had a prior mortgage included in Chapter 7 Bankruptcy, there is a four year waiting period after discharged date of Chapter 7
The foreclosure, deed in lieu, short sale (housing event date) can be finalized after the discharged date and that date does not matter with Conventional and VA Loans
However, with FHA Loans, there is a three year waiting period after the recorded housing event date and the discharged date of the Chapter 7 Bankruptcy does not matter
The housing event needs to be finalized and the mortgage included in the bankruptcy cannot be reaffirmed
This is a case where conventional and not FHA will work for the home buyer. There cannot be any late payments after bankruptcy and/or housing event dates.
Conventional Versus FHA Guidelines On Deferred Student Loans
Deferred Student Loans is one of the largest issues and obstacles when qualify for home loans.
FHA and USDA does not exempt deferred student loans when underwriters calculate debt to income ratios
Both FHA and USDA require mortgage underwriters to take 1.0% of the outstanding loan balance and use that figure as borrowers hypothetical monthly debt
This can become a big hurdle with professionals like doctors, dentists, lawyers, and educators who have six figure student loan balances
The U.S. Department of Veterans Affairs does allow deferred student loans that has been deferred for longer than 12 months to be exempt from DTI calculations
VA requires underwriters to take 5% of the outstanding student loan balance and divide that figure by 12 months
That yielding figure is to be used as veterans hypothetical monthly debts when underwriters are calculating DTI on borrowers
Income Based Repayment (IBR) can be used for conventional loans as long as the IBR payments is reflecting on borrowers credit reports.
Rising Home Prices Forces FHFA And HUD To Increase Loan Limits
Both the Federal Housing Finance Agency (FHFA) and the U.S. Department of Housing and Urban Development (HUD), the parent of FHA has increased loan limits for two years in a row.
This is due to rising home prices
Mortgage Rates are at a 10 year all time high and is expected to increase two more times this year
However, history proves that rising home prices yields slower home buying stats
Not on this case
Even though mortgage rates are high and continue to be high, there is no slowdown in home buying
There is more demand for homes than inventory
Home values in many parts of the country has experienced double digit grow year after year starting in mid 2012 with no signs of a correction
Many homeowners, especially California homeowners, are sitting in homes with a lot of equity with FHA Loans
This may be the time on how to cancel pmi and refinance their FHA Loans into Conventional Loans
Homeowners with 20% equity with their FHA Loans can easily eliminate their high annual FHA MIP by refinancing with conforming loans. This is one great way on how to cancel pmi.
Ways And Advice On How To Cancel PMI On Conforming Loans
Lenders will automatically remove private mortgage insurance on conventional loans when the homeowners loan to value gets down to 78% LTV of their scheduled amortization. However, it cannot be forced down to 78% LTV to expedite the 78% LTV sooner than the scheduled amortization period.
How To Cancel PMI On Conventional Loans
Homeowners can request cancellation of private mortgage insurance to their lender and PMI company cases where the property did not appreciate. This can be done if homeowners can pay down the loan balance to 78% of the original value at closing.
Requesting PMI Cancellation And How To Cancel PMI
If homeowners property has appreciated, borrowers can request the removal of their private mortgage insurance based on the appreciated value. A new home appraisal needs to be ordered and the loan had to be active for at least 24 months. The lender and/or mortgage servicer needs to order the appraisal and not the homeowner.