Questions You Should Ask Your Mortgage Lender On Loan Process
Gustan Cho Associates are mortgage brokers licensed in 48 states
This Article Is About The Questions You Should Ask Your Mortgage Lender On Loan Process
Choosing the right mortgage lender is key.
Buying a home is a person's single largest investment in their lifetime
The average home loan amount is $327,000 in the United States
California has one of the highest home prices in the nation and the average homes in the state of California is priced at $585,700
Most homebuyers do not have the cash to purchase a home so they need to finance it
The mortgage industry is quite complex
Homebuyers, especially first time home buyers, need to educate themselves
Borrowers need to do a lot of due diligence in not just the home buying process but the mortgage process as well.
Starting The Home Buying Journey And Process
Many borrowers will search the internet and run into situations where they read conflicting reports.
The mortgage industry is extremely regulated
But there are still advertisers who advertise home loans but are not actual lenders
Be careful on websites where they are lead generation websites and not actual lenders
Never input personal information on online websites that is not an actual mortgage lender
Many times these non-lender websites are lead generation websites
They will sell consumer names to multiple mortgage companies for the borrower's contact information
What Are Mortgage Lender Overlays?
Not all lenders have the same qualification requirements.
For example, a local bank may require a 640 credit score
They may also require that all collections and charge off accounts be paid off
However, under HUD Guidelines, homebuyers can qualify for FHA Loans with outstanding collections and charge off accounts with a 580 credit score
Even though a borrower may meet all HUD lending requirements lenders may have higher lending guidelines called overlays
Overlays are mortgage guidelines that are above and beyond those of FHA, VA, USDA, Fannie Mae, and Freddie Mac minimum mortgage requirements
Gustan Cho Associates is a national mortgage company with no overlays on government and conventional loans
As long as borrowers meet minimum federal mortgage guidelines, we can qualify borrowers and not just close their home loans but close them on time
Borrowers with less than perfect credit and who have outstanding collections, charge-offs, and/or higher debt-to-income ratios need to ask the loan officer what types of lender overlays they have.
Choosing The Right Lender And Types Of Questions You Should Ask Your Mortgage Lender
Before borrowers choose a mortgage loan originator to work on their mortgage application there are several questions they should ask their mortgage lender. I recommend that borrowers speak with several loan officers and ask them certain questions. Borrowers need to feel comfortable with their loan officers and get along with them.
The mortgage loan approval process can be sometimes grueling and stressful if the borrower has not been properly qualified
The main reason for a last-minute loan denial or stress during the mortgage process is because the loan officer did not properly qualify the borrower
There is no reason for a loan denial and/or stress during the mortgage process if the borrower was qualified properly
If a loan officer issues a pre-approval within a matter of hours the same day, the chances are that the loan officer did not properly qualify the borrower
All pre-approvals Gustan Cho Associates Mortgage Group are full credit loan approvals signed off by our underwriters
When we issue a pre-approval, that means that the mortgage loan file has been fully underwritten by an underwriter and the borrower has a full loan commitment
Our pre-approvals take about a week
All mortgage docs are fully analyzed and reviewed and the underwriter issues a full credit conditional mortgage loan approval.
Conditional Mortgage Loan Approval
Conditional loan approval means that an underwriter has fully reviewed the borrower and all of the documents.
Once the underwriter decides the borrower meets mortgage guidelines, then the underwriter will issue a conditional approval
The loan file will go back to the mortgage processor and the next step is for the processor to gather conditions
The mortgage processor will then submit all conditions for a clear to close.
Clearing Conditions For A Clear To Close
Example of conditions are the following:
Executed Real Estate Purchase Contract
Home Appraisal
Updated Bank Statement
Updated Verification Of Employment
Title Work
Homeowners Insurance Declaration Page
Any other new conditions that may come up by the mortgage underwriter.
The Road To Clear To Close
Once all conditions have been gathered and collected by the mortgage processor, it gets submitted back to the same underwriter for a clear to close.
Here are some of the questions that you should ask your mortgage loan originator and see how you like their responses
Consider it as an interview process
If you do not like the prospective loan officer's answers, then continue shopping until you feel comfortable with a loan officer that you feel you can trust.
Loan Program Questions You Should Ask Your Mortgage Lender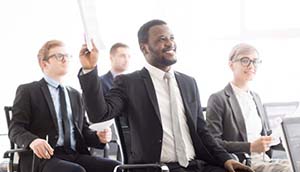 Important Questions You Should Ask Your Mortgage Lender is about loan programs.
Even though borrowers may qualify for FHA Loans, is an adjustable-rate mortgage better for the borrower versus a fixed rate?
Adjustable Rate Mortgages, also known as ARM, have lower interest rates than 30 year fixed rates
First Time Home Buyers who are purchasing a starter home and are looking to upgrading to a larger home in five to seven years may benefit more with an ARM versus a 30-year fixed-rate mortgage
Most seasoned loan officers will probably qualify borrowers by analyzing the following:
Income
Assets
Liabilities
Reserves
Credit reports
Credit scores
Debt to income ratios
Conventional Versus FHA Mortgages
Borrowers may qualify for both conventional and FHA Loans but which loan program would offer the best benefit for the borrower?
It might be FHA, Conventional, or an ARM product
Sometimes a borrower with phenomenal credit scores might not qualify for a conventional mortgage loan because their debt to income ratios are too high
The loan officer should explain to borrowers why they do not qualify for certain mortgage loan programs
Loan Officers should not just tell borrowers that they do not qualify but explain why
Questions You Should Ask Your Mortgage Lender is about the various loan programs available and why the loan officer is recommending a particular loan program.
Adjustable-Rate Mortgages Versus Fixed Rate Mortgages
If the mortgage loan officer recommends an adjustable-rate mortgage, ask him or her the frequency of the adjustment and the maximum annual adjustment cap
Borrowers should also ask him or her the cap on the adjustable mortgage which is the highest rate
Make sure to also ask the margin and index
Many times the loan officer will offer the ARM because rates are generally lower on adjustable-rate mortgages
Adjustable Rate Mortgages are a great product if borrowers do not intend on living in a new home for more than 5 years to 10 years and intend on upgrading and/or downsizing.
Buying Down Mortgage Rates By Paying Points
Home Buyers who intend on living in their home for a long time and do not intend to refinancing in the near future may want to ask the mortgage loan officers if they can buy down the mortgage by paying points.
A point is equivalent to one percentage point of the mortgage loan amount
Borrowers can buy points with sellers concession
Costs Of Getting A Mortgage Loan
Besides the down payment on a home purchase, there are closing costs associated with the origination of all real estate transactions.
A mortgage broker may not have origination fees
But a mortgage broker needs to fully disclose all closing costs and fees of third-party vendors that are associated with the origination of a home buyer's mortgage loan
He needs to disclose to you the Good Faith Estimate which is now is called Loan Estimate
A loan estimate is an estimate of all settlement and closing costs that borrowers may incur in closing the home mortgage
Examples of costs that a mortgage loan borrower may incur are the following:
Appraisal costs
Credit report fees
Title charges
Termite inspection
Well inspection
Re-inspection fees
Pest inspection fees
Roof inspection fees
Taxes
Recording fees
Questions You Should Ask Your Mortgage Lender: Turnaround Time For A Approval
Other important Questions You Should Ask Your Mortgage Lender is what their turnaround time is for a mortgage loan approval and clearing conditions.
Underwriting turnaround times vary from lender to lender
Some lenders will underwrite and approve a mortgage loan application in less than 24 hours and clear conditions in less than 24 hours
Other lenders may take a 9-day underwriting and approval turnaround time and 7 days to clear conditions
This is an important Questions You Should Ask Your Mortgage Lender
Home Buyers or homeowners needing to qualify for a mortgage with a direct lender with no overlays on government and conventional loans can contact us at Gustan Cho Associates at 800-900-8569 or text us for a faster response. Or email us at gcho@gustancho.com. We are available 7 days a week, evenings, weekends, and holidays.