---
This guide will cover getting approved when buying a house in Nevada. The housing market has cooled off throughout the country except for the housing market in Nevada. Out of all territories in Nevada, Las Vegas remains to be the hottest market in the state of Nevada. Alex Carlucci of Gustan Cho Associates is an expert in the housing market in Nevada. Alex has also studied the Las Vegas housing markets for five years. Here is what Alex said:
Due to the current economic state and the median home price in Las Vegas, Nevada, residents sometimes have no choice but to rent rather than buy a home. According to www.realtor.com, the median home price in Las Vegas is $449,900 for September 2022 and has increased by 15.4% from 2021, which equates to approximately $256 per square foot. 
When comparing those numbers to the average cost to rent in Las Vegas, which currently sits at $1,506.00, renting is some residents' only option. The Las Vegas market is very strong right now and holding steady, despite the current interest rates. The reason is that places like California are becoming too expensive, and people move to Las Vegas regularly. The biggest selling point to living in Nevada is that it has no state income tax! That is something that attracts almost everyone.  

Buying a House in Nevada as a First-Time Homebuyer
Buying a house in Nevada as a first-time homebuyer? Who qualifies to be a first-time home buyer? A First time home buyer is anyone who has yet to hold an ownership interest in a property within the last three years. A first-time home buyer can be someone coming out of a divorce or "legally" separated and hasn't had sole ownership in a primary residence within the last three years. bb
However, it is ok for them to have joint ownership with their previous partner. Suppose you are currently renting a home or an apartment and looking to purchase a home in Las Vegas. In that case, the team at Preferred Mortgage Rates, an affiliate of Gustan Cho Associates, can walk you Gustan Cho Associates through every step and make sure you are fully confident and comfortable during the entire process at the lowest rates.
Preferred Mortgage Rates is a dba of Gustan Cho Associates and the largest discount mortgage broker with the lowest rates. Our loan officers at Preferred Mortgage Rates can get consumers the lowest rates due to having a very discounted, low compensation plan.

Going From Being a Renter To Buying a House in Nevada
We have realtor partners to pair you with once you are pre-approved. We have a tremendous relationship and know you, our client, will be treated amazingly! Depending on the rental payment history to support your request for a mortgage, the mortgagee can use written documentation to support your file. 
First, you must include either the previous rental contract or the lease agreement. In addition, the mortgagee will accept any of the following, a letter verifying a minimum of twelve consecutive months with good payment history from a landlord that is NOT family or a property management company, and either twelve months of consecutive bank statements or twelve consecutive months of cleared check receipts.
Other requirements for first-time buyers include a minimum credit score of 580 FICO on a 3.5% down payment home purchase mortgage loan. The rental premium for the previous twelve months must be more than $300.00 monthly.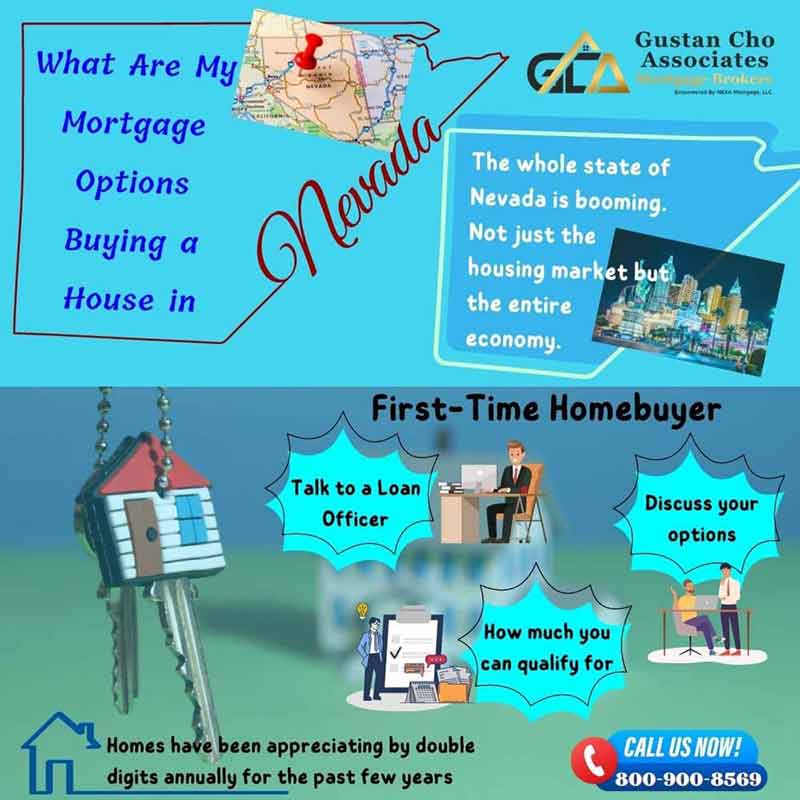 How Does Verification of Rent Work For Buying a House in Nevada?
Suppose your previous landlord was a family member. In that case, it is required to provide the lease or rental agreement and twelve consecutive months' bank statements showing the payment or canceled checks. Knowing how important rental payment history is can be your key to the American Dream of Homeownership!   
Low payment shock is a strong compensating factor. Low compensating factor is when your new housing payment is no greater than 5% of the rent you were paying or $100 whichever is lower.
Now that we know how important it is let's discuss ways to promptly ensure your payments are made. First, you must establish a budget. By budgeting your money and living within your means, you should be able to make your rent payments on time. Many people have a hard time and often live "paycheck to paycheck." 

How Much Home Can I Afford Buying a House Nevada Versus How Much Home Can I Qualify
The best way to set up a budget is to figure out how much money you bring home each month. Once that number is determined, in a perfect world, you would want to put ten percent of your weekly or biweekly income into a savings account. It would help to prioritize where that money is spent with the remaining ninety percent. 
The key in reviewing your home purchase budget is how much you can afford. Not how much you can qualify. How much you can qualify is a formula determined by mortgage lenders and will only count debts that reports on your credit report.
The obvious first choice should be your housing needs which, according to the national average, would be thirty percent. The other sixty percent of your income is personal preference on how it is spent. Try to add extra money to your savings before you spend on frivolous things until you build up three months' reserves for your rent. If you live within those guidelines, financial stress should not be a factor in your daily life. You are also on your way to owning a home!   
Buying a House in Nevada Better Than Renting? 
Tens of thousands of people are thinking about buying a house in Nevada. The whole state of Nevada is booming. Not just the housing market but the entire economy. Home prices in Nevada have been increasing exponentially yearly with no sign of a housing correction.
The rental market in Nevada is hot. Property owners are increasing tenant rents every year by at least 10% or more in many areas. As a homeowner in Nevada, your new housing payment will most likely be lower than your rent payment and the chances are that you monthly payments will not increase for a long time.
Despite the current status of our economy, there are still many reasons for you, the consumer, to purchase a home instead of renting. In this section, I will explain the benefits of buying a home. But before I do, I want you to remember one thing "lease a car, buy a house" That was taught to me as a young professional that I live by to this day.  

Benefits of Buying a Home In Nevada Versus Renting
Homes have been appreciating by double digits annually for the past few years. Many first-time homebuyers frequently ask whether they should buy now or wait until home prices drop in Nevada. Las Vegas is one of the hottest places people are migrating to from all over the country. The biggest migration comes from Californians. Home prices will continue to appreciate. As I noted early in this article, house prices in Las Vegas have increased by 15.4% over last year alone. 
When you own your home, those increases will build equity that belongs to you rather than your landlord. Owning a home will give you tax benefits you would not qualify for as a renter. When you are a renter, there is a list of restrictions that you must abide by. You will be the only person who makes restrictions on the property that you own. If you want to paint a room or have a certain breed of dog, it may not be allowed as a renter.  
Once you lock that mortgage up, it will allow you to plan a long-term budget. Leases for homes or apartments are usually renewed annually, and the price will likely increase. Your payment as a homeowner should only increase if your property taxes or homeowners insurance increases. 
Lenders For Bad Credit When Buying a House In Nevada
Gustan Cho Associates is available seven days a week, including holidays, to ensure we can help you obtain your dream home. To start the pre-approval process, click here; one of our associates will gladly help you! Michelle McCue is a licensed loan officer in Nevada and a loan officer assistant to Gustan Cho in 48 states, including Puerto Rico, the U.S. Virgin Islands, and Washington DC (not licensed in New York and Massachusetts). 
Why Choose Us For Your Lender When Buying a House in Nevada
Gustan Cho Associates has developed a national reputation for homebuyers choosing us when buying a house in Nevada. When buying a house in Nevada, Gustan Cho Associates has the lowest rates and a network of 210 wholesale lenders. Gustan Cho Associates has a national reputation for being able to approve and close mortgage loans other mortgage lenders cannot do. Over 80% of our borrowers could not qualify at other mortgage lenders.
Gustan Cho Associates is a one-stop mortgage shop. We have no lender overlays on government and conventional loans, thousands of non-QM mortgage options through our network of 210 wholesale lenders, we have a discount arm called Preferred Mortgage Rates which we have been constantly rated as the lowest priced lender at Bank Rate, and last but not least, we have a discount rate division called Jumbo Mortgage Options with hundreds of traditional and non-QM mortgage loan options.
This blog is on my mortgage options for buying a house in Nevada.was updated on March 18, 2023, by Michelle McCue, the regional managing director, top producing loan officer, and associate contributing editor at Gustan Cho Associates. The team at Gustan Cho Associates is available seven days a week, evenings, weekends, and holidays.If you are thinking about buying a house in Nevada, Gustan Cho Associates is the lender to go to for a pre-approval.