---
This article will cover a niche mortgage loan program called the doctor and medical professional mortgage loans. This niche mortgage loan program has been designed, created, and launched to reward our medical doctors, dentists, oral surgeons, nurses, and pharmacists. optometrists, chiropractors, paramedics, firefighters, and first responders with buy their primary owner-occupant homes for their family,. Here is what you need to know about Gustan Cho Associates Doctor and Medical Professional Mortgage Loans.
Gustan Cho Associates, powered by NEXA Mortgage, LLC, are mortgage brokers licensed in 48 states, including Washington, DC, Puerto Rico, and the U.S. Virgin Islands. We have a network of 210 wholesale lending partners including dozens of wholesale lending partners on doctor and medical professional mortgage loans.
In the mortgage industry, there is a mortgage for specific groups of borrowers. For instance, you will find mortgages for self-employed individuals, veterans, 1099 employees, foreigners, retirees, no-income verification homebuyers, real estate investors with no tax-returns, and asset-based lending borrowers. But did you know that even doctors have a particular type of mortgage for them? If you didn't, now you do. The doctor and medical professional mortgage loans are referred to as Doctor or physician loans. In this piece, we will take a closer look at this loan, what it is, how it works, and what it can do for you. In the following paragraphs, we will be covering the doctor and medical professional mortgage loans. Keep reading to find out. 
What Are Doctor and Medical Professional Mortgage Loans?
A physician or doctor loan is a mortgage product specifically designed for borrowers in the medical field, including doctors, dentists, and veterinarians. These loans typically come with favorable terms, including low down payments, higher loan-to-value ratios, and extended rate locks than traditional mortgages.
Doctor and medical professional mortgage loans are becoming increasing popular for doctors and dentists because they do not have to come up with a down payment on a home purchase.
They are intended to help professionals in the medical field. Doctors, for example, are often at a disadvantage when applying for a regular mortgage, especially early in their careers, due to the massive student loan debts, which gives them a larger debt-to-income ratio than is required. Also, they may need help to provide proof of employment and income, especially if they have just graduated or started their residency. While it may seem unusual for a lender to give a mortgage to a borrower with such high student debt, doctors have a real potential to earn in the near future, so they are less likely to default.
How Do The Doctor and Medical Professional Mortgage Loans Work?
Physician loans may have a few similarities with conventional mortgages, but there are also some significant differences. For instance, with a physician loan, a medical professional can buy a home much sooner than they ever would with a conventional mortgage. This is because the requirements for a traditional loan are much stricter than those of a physician loan. With that said, let's break things down and see how everything works:
Debt-To-Income Ratio Guidelines on Doctor and Medical Professional Mortgage Loans
Debt to income ratio guidelines on doctor  and medical professional mortgage loans is what make this niche unique loan program attractive. Doctors, dentists, pharmacists, and nurses normally have high student loan debt due to their post graduate studies. Some even have close to one million worth of student loan debt which makes it almost impossible to get a mortgage for the tiniest house.
But for doctors, achieving a DTI of 50% or lower is almost impossible due to the high student loans. The lenders for physician loans are aware of this, which is why a high DTI ratio is not such a deal breaker.
Debt-to-income ratio is essentially the percentage of your income versus the amount that goes into debt payment. This percentage is required to be about 50% or even lower for conventional loans. And the lenders want such a percentage because they want to be sure that you can manage your debt, which after making your monthly payments, you will be left with enough money to make your mortgage payments.
Private Mortgage Insurance on Doctor and Medical Professional Mortgage Loans
Private mortgage insurance is required on conventional and jumbo loans with higher than 80% loan-to-value which is homebuyers with less than a 20% down payment. Private mortgage insurance is a special type of insurance aimed at protecting the lender just in case a borrower defaults.
Private mortgage in offered by independent private mortgage insurance companies. Independent PMI companies are not like HUD, VA, or USDA where the mortgage insurance is a flat fixed rate. Private mortgage insurance on non-government loans are priced independently based on the individual credit risk of the mortgage loan applicant. Therefore, private mortgage insurance can vary greatly depending on the independent insurer and how they assess the mortgage borrower.
For conventional loans, the PMI typically costs about 2% of the loan amount per year, and the borrower is required to pay for it, especially if they make a down payment of less than 20%. Concerning physician loans, the PMI is not required simply because the lender knows that the Doctor has a significant opportunity to earn an income in the near future and, therefore, will make payments without defaulting.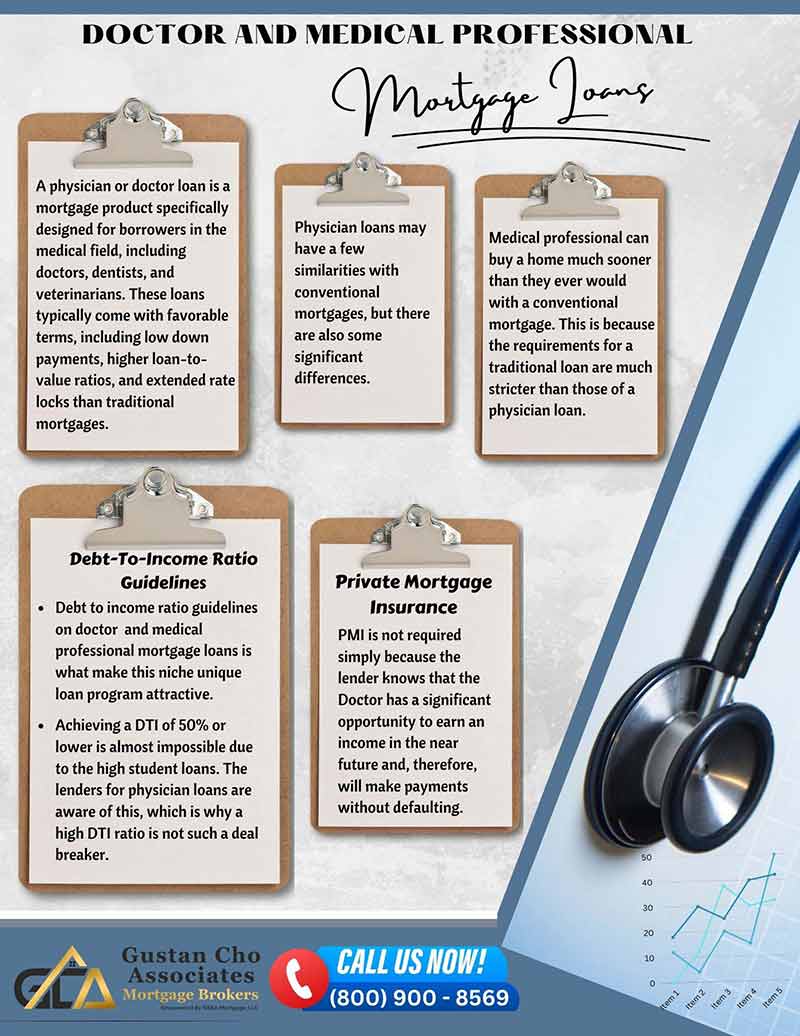 Down Payment Requirements For Physician Mortgage Loans
Physician and Dentists Mortgage Loans offer lower or no down payment depending on the doctor and medical professional mortgage loans. Gustan Cho Associates has 210 wholesale lenders which among them are specialty niche lenders for doctor and medical professional mortgage loans. In general, the selling point for physician loans is most physician and medical professional mortgage loans do not require a down payment.
Lenders of physician mortgage loans feel comfortable not requiring any money down on a home purchase because physicians have high wage earning power with almost a decade of professional education. Most physicians make in the mid-six figures while some high earners break over a million dollars a year in earnings.
There are some portfolio physician and dentist mortgage loan programs that offer a lower down payment requirement versus nothing down. Most physician loans don't require you to have a down payment. This is because lenders always consider that doctors have a massive potential of earning in the near future, which means that they would be able to pay off the loans without any problems.
What Type of Properties Can You Buy With a Physician Mortgage Loan?
Only owner-occupant primary residences are eligible with doctor and medical professional mortgage loans. Investment properties, non-occupant real estate, or commercial properties are not eligible for physician mortgage loans.
Doctors and medical field professionals are eligible to purchase condos, single-family homes, townhomes, and owner-occupant two-to-four unit primary multi-family homes with physicians mortgage loans. You cannot purchase boathouses, boat slips, motorhomes, or homes not permanently fixed on a concrete foundation. Working farms or mixed used properties are not eligible with physician mortgage loans.
Property choice – a doctor's loan can only be used to finance a home you will live in or refinance an existing mortgage. This means that you cannot buy a second home or an investment property. There are properties such as condos that the lender won't allow a doctor to buy, such as condominiums or villas.
Who Is Eligible For Physician and Medical Worker Mortgage Loans?
Borrower's qualifications – portfolio mortgage lenders for physician loans require the borrowers to have specific qualifications, in terms of the degree they did, to qualify for a mortgage. Also, you will need to have proof of income and employment. However, since some doctors may be working as interns, in residency or fellowship, the lender might relax this requirement.
You need to have a degree in the medical field or any other related degree.

The types of degrees required include MD, DDS, DVM, DPM, OD, DO, DC, RN, or DMD. 

You need to be a medical resident, a fellow or attending physician, or a dentist or veterinarian. 

A good credit score, which ideally should be 700 or above. But other lenders would accept a score of 680 
A contract of employment is enough as proof of income, which means it is not necessary to have pay stubs or W-2s. You can be an intern, resident, or just have opened up your medical practice. All doctors and medical professionals are going to be underwritten on a case by case scenario. So, what are the specific personal requirements for doctorand medical professional mortgage loans?
What Are Negatives of The Doctor and Medical Professional Mortgage Loans?
In this section, we will cover some drawbacks of physician loans. Now that we have looked at the positives of the mortgages. We also have to look at the negatives so that you can make a much more informed decision when you have all the information. Doctor loans can be categorized under Adjustable Rate Mortgages (ARMs) and are rarely fixed-rate mortgages.
Homebuyers need to know and understand the risks and drawback when they choose an adjustable rate mortgage. The problem with is ARMs for the first few years of the loan, you will be able to pay a lower fixed interest rate. However, the interest rates start to fluctuate after that period, often increase dramatically. As not many borrowers are always prepared for this hike,
Some homeowners with ARMs may experience a tough time trying to keep up the payments. Secondly, other than the fluctuating rates, some lenders set high-interest rates. And when they add up over time, the loans become too expensive. And this is despite the super sweet deal in the beginning. Thirdly, the likelihood of an underwater mortgage is high with a physician loan. The truth is, when you fail to pay the down payment, you start with zero equity. This is problematic because if the property value drops or you are no longer able to make regular payments, you will find yourself with a mortgage with a higher principal than the actual home value. 
Getting Pre-Qualified For a Physicians Mortgage Loan Program
Are you a medical professional looking to buy a house but worried that your student loan hinders getting a mortgage? If so, then a physician loan is something you should look into. This mortgage is the best option to get your first home even before you start your career and without having to worry about your debt-to-income ratio.
The team at Gustan Cho Associates are experts in helping homebuyers who could not qualify at other mortgage companies. We have a reputation of being able to do mortgage loans other lenders cannot do. Over 80% of our borrowers are folks who could not qualify at other lenders because of lender overlays or because the lender did not have the mortgage loan option best suited for the borrower.
If you want to learn more about the loan product in your area of residence, hire a mortgage broker or a financial advisor to guide you. With their skills and expertise, you will make the best decision based on your circumstances. The team at Gustan Cho Associates is available seven days a week, evenings, weekends, and holidays.