Online Mortgage Shopping Changed Mortgage Lending
Gustan Cho Associates are mortgage brokers licensed in 48 states
In this blog, we will cover and discuss how online mortgage shopping changed mortgage lending. The Greatest Benefits Of Online Mortgage Shopping Is Time Management: Being More Efficient. We are used to getting what we want and getting it now. The world is at our fingertips. If we want information, we want it now. Anything we want to know……just ask Google or Siri, or Cortana right? It's true- the internet has changed us and online shopping is the new way consumers are now adapting to shopping, especially if you are shopping for a mortgage. As a father of a small baseball team (slight exaggeration) I can say that I am the master of efficiency. For me, efficiency is not a desire but a necessity. I am constantly looking for ways to be more efficient, and to save time, especially in my career as a mortgage lender. In this article, we will discuss and cover Online Mortgage Shopping Changed Mortgage Lending.
Smarter Borrowers
One of the biggest time savers for me as a consumer is online mortgage shopping. I love shopping online. It's like Christmas every day when a package arrives at my door. The best part about it is that I know that by shopping online, I can be a smarter shopper and I can compare prices without even leaving my house. I don't know about you, but I can honestly say that I love to do everything I can do from home. It is a big time-saver- no worrying about commuting to and from a store, no crowded stores or long lines and most of all, no waiting. Many stores even offer same-day delivery if you order by a certain cut off time.
Goodbye Brick And Mortar And Hello Online Mortgage Shopping
Will the brick and mortar stores be the proverbial online showroom of the future especially with Online Mortgage Shopping? I know I am guilty of window shopping at the mall and then going home to find a better deal online. I am sure many of us can relate. I recall a conversation I had with a salesperson at my local electronics outlet in my Hampshire, Illinois hometown.
Is Online Shopping the New Normal?
I was shopping for a new television and I knew that I would want to see it in person before I committed, as most people like to do with big-ticket items. The salesperson told me that the store has been busy all day but they have not sold one television. He even went as far as to tell me that he has overheard many customers tell him directly that they would just go home and see if they could find a better deal online. Online Mortgage Shopping has definitely changed the ways consumers shop. There are pros and cons with online shopping, especially with online mortgage shopping. Convenience for consumers has brought worldwide competition among vendors, especially lenders from online mortgage shopping borrowers.
Comparing Pricing & Rates Through Online Mortgage Shopping
Many of us savvy shoppers like to rate shop when we are looking for services, especially with online mortgage shopping. My recent auto insurance policy was coming up on expiration and I decided that I needed to renew. I found that my insurance company was going to raise my rates by 15% so I decided to do some shopping around. I am always amazed by the relative ease of online shopping. You just input all of your information and then suddenly you get multiple quotes- all competing for your business.
How Online Mortgage Shopping Changed The Lending Industry
Something that may seem new to some of you are getting a loan to buy your first home or refinancing an existing mortgage by shopping online. Not too long ago, mortgage loan officers used courier services like FedEx, UPS, USPS to overnight mortgage documents and mortgage disclosures to the following:
Inter-Office Departments
Corporate Offices
Centralized Mortgage Processing & Underwriting Centers
Regulatory Agencies
Title Companies
Other Mortgage & Real Estate Professionals involved with the mortgage loan process and real estate transaction
Closing Documents
Electronic Online Mortgage Shopping
Now everything is done electronically. Brick and Mortar Mortgage Offices are no longer necessary. This is because everything from borrower disclosures to closing documents can be done via secured email with online mortgage shopping borrowers. More and more loan officers are looking for remote loan officer positions.
Working With Remote Loan Officers
Remote Loan Officers do not have to report to a local branch office not because they do not want to, but because they do not have to. All mortgage transactions from soliciting potential borrowers to closing can be accomplished online. There was a time where loan officers went to every loan closing because they had to. Now, most loan officers do not go to borrower closings because everything is done online.
Online Mortgage Shopping Made Lending Easy
Here is how online mortgage shopping changed the mortgage loan origination business:
The entire process can be done without even leaving your home
All of the paperwork can be submitted electronically
This caused eliminating the need for multiple trips to the bank to drop off more documents or sign more paperwork
So as surprising as this may all seem, as I was perusing the internet today, I stumbled across a bulletin from the California Department of Business Oversight that says California online lending has increased by more than 930% over a five year period
Days, where you visit your local bank or lender with a box of paperwork, is long gone
Even if the lender you are dealing with has a local branch not too far from where you live, all paperwork and disclosures are done online
Many times, it is mandatory to acknowledge disclosures online.
Online Mortgage Shopping for home loans has opened up more doors for consumers
Consumers can choose any mortgage loan originator in any state
Consumers are not limited to a local lender close by where they live
A consumer in California can hire a loan officer from New Jersey or Florida and vice versa.
Online Mortgage Shopping Safely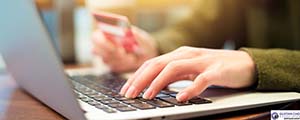 "Clearly, California has a lot at stake in this growing segment of our financial services market," said DBO Commissioner Jan Lynn Owen. "It's crucial that we better understand the industry. These companies are providing needed access to financing. But we want to make sure our regulatory structure adequately protects the interests of our consumers and small businesses and works effectively for the industry". The surest way to do any online business is to check the business on the BBB website. You want to make sure that anyone you give your financial information to is worthy of receiving it. You should always exercise due diligence and only work with reputable companies before sharing your information
Getting Qualified and Pre-Approved for a Mortgage at GCA Mortgage
Mike Gracz is a senior loan officer with Gustan Cho Associates. Mike is a contributing associate editor and writer for Gustan Cho Associates. Mike Gracz is the co-author of Passing The NMLS Examination and is a writer for Gustan Cho and Associates. Mike has an MBA and holds a Master's of Science Degree in Accountancy.
Mortgage Lender Expertise in Helping Borrowers
Michael has over 20 years of experience with federal and state income tax returns. He has over ten years of experience in business taxation, including leading and conducting audits of global and national corporations. Mike Gracz is a licensed mortgage loan originator and is a licensed loan originator with Gustan Cho Associates. Mike's passion for helping others realize the dream of homeownership become a reality has motivated her to get his federal NMLS mortgage loan originator license. Many of Michael's friends are real estate agents. Mike has many talents in accounting, financial, and real estate expertise, and his passion for caring for others that have told him that he would make an excellent mortgage loan originator.
Buying a Home in Today's Housing Market
Mike also realized the housing prices of Sacramento California County and the rest of the country is increasing. Many hard-working folks who are renting are doing themselves a disfavor by wasting their housing rental payments instead of buying a Sacramento Home or any home in the continental United States. With a home purchase, homebuyers' new monthly mortgage payments are equivalent to their rental payment but they are developing equity and wealth.
Qualifying For Mortgage At Gustan Cho Associates
Like to thank Mike Gracz of Gustan Cho Associates for this BLOG on Online Mortgage Shopping and for being a contributing associate editor and writer at GCA Mortgage. Gustan Cho Associates is a national mortgage company licensed in multiple states with no lender overlays on government and Conventional Loans. We just go off automated findings of the Automated Underwriting System findings. As long as the borrower meets the conditions of the AUS, that is your final approval. The minimum credit score to qualify for FHA loans with a 3.5% down payment is 580 FICO. The maximum debt to income ratio cap is 56.9% DTI for borrowers with at least a 620 FICO credit scores at Gustan Cho Associates. Most lenders will require borrowers to pay off outstanding collection accounts and charge off accounts to qualify for FHA Loans. However, GCA Mortgage Group will not require you to pay off any outstanding collections or charge off accounts. This is because FHA Guidelines On Collection Accounts do not require you to pay off collections and charge off accounts. Our goal and mission at Gustan Cho Associates. is to have the dream of homeownership become a reality. The team at Gustan Cho Associates is available 7 days a week, on evenings, weekends, and holidays to take your phone call and answer any questions you may have on any loan program. Contact us at Gustan Cho Associates at 262-716-8151 or text for a faster response. Or email us at [email protected]