Helping Your Realtor and Lender Help You with a Home Purchase
Gustan Cho Associates are mortgage brokers licensed in 48 states
In this article, we will cover and discuss helping your realtor and lender help you with a home purchase. I know sometimes it can be hard finding the right Realtor. I also know that once you have made that decision, there are some tips that can make your Home Buying Partnership more successful. Helping your realtor and lender help you with your home purchase will relieve much-added stress in the home buying process and mortgage process. Busy Realtors in the business tend to assume everyone knows the proper procedure for looking at homes. I have found this topic to be rarely discussed between Realtors and clients but an area that is definitely worthy of being addressed. In this article, we will discuss and cover Helping Your Realtor And Lender Help You With Home Purchase.
Helping Your Realtor And Lender Help You With Meeting Another Real Estate Agent
If you meet another agent, be sure and tell them you are already working with an agent. If a real estate agent does not ask you if you're working with another agent, then promptly volunteer that information. Real estate agents are trained to ask you this question but sometimes they don't, they forget or are afraid to hear the answer. Be sure and tell them immediately
Looking At New Homes (Model Homes Or Inventory)
If you attend a New Home Model/Open House without your agent, give your agent a business card the model home agent. If you do not have a business card, you should sign the guest book with your agent's name next to your own with their number. Not only will this help your agent get the most detailed information for you, but it will also protect you from giving out your personal information. Your agent knows the questions that should be asked of the builder. In some cases, the builder will not allow you to have your own representation if you do not fill out their card with your agents' names. Be sure and do this.
Do Not Ask Another Agent To Show You Property
Your real estate agent is eager to help you. Part of your real estate agents helping you is sending you properties for consideration. First, drive by the property to see if the area neighborhood is of interest to you. Then schedule an appointment for a showing with your agent. Some appointments can require 24-hour notice, but many are much shorter. Your agent will also show you any home that you have located yourself
Do Not Directly Call The Listing Agent For Information As They Represent The Seller
Your agent will be able to get more detailed information from the listing agent than you, as they have direct access to the listing information through the MLS. There will be no confusion if your agent calls the listing agent.
Follow Open House Protocol If You Go Unescorted
If you attend an Open House without your real estate agent, give your real estate agent business card to the agent hosting the Open House. If you do not have their card, you can sign their guest book with your agent's name next to your own. Again not only will your agent have access to the MLS for detailed information about the property, but this protects you from giving out personal information. I hope this will help you in working with your own real estate agent. If you have still not found an agent, please call me as I can help you locate a great agent from our large Real Estate and Lending Network Database at Gustan Cho Associates. Connecting both the Realtor and the Lender (My Loan Officer Partner Dale Elenteny of Gustan Cho Associates) to you truly takes you from the beginning to the end in a seamless process. I look forward to hearing from you and helping you buy and finance your dream home
Helping Your Realtor And Lender Help You About My Loan Officer Partner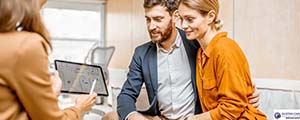 Dale Elenteny of Gustan Cho Associates is a veteran mortgage loan professional with over 27 years of experience in the mortgage business. Dale's experience includes both as a wholesale account executive and a retail loan officer. Dale Elenteny represents Gustan Cho Associates has a national reputation for being able to do loans other lenders cannot do. The regional offices of Gustan Cho Associates is based in Oakbrook Terrace, Illinois. Gustan Cho Associates is licensed in 48 states and has over 160 wholesale mortgage lenders. We have a reputation for our 21-day closings and no overlays on government and conventional loans. Gustan Cho Associates empowered by NEXA Mortgage, LLC. is one of the fastest, if not the fastest, growing national mortgage companies. Dale Elenteny, like myself, is available 7 days a week, on evenings, weekends, and holidays.
Happy House Hunting!
Thomas Falloon
Real People Realty
708-525-6308
Illinois Licensed Real Estate Agent
Author Of Helping Your Realtor And Lender Help You
About The Author Of Helping Your Realtor And Lender Help You
Tom Falloon is a contributing associate writer for Gustan Cho Associates. Tom is a licensed veteran realtor for Real People Realty based in Mokena, Illinois. Tom's home buyers become their lifelong friends. Most of Thomas Falloon's home buyers and sellers are either previous clients or referrals from previous clients. Tom's passion for writing blogs is to educate and inform the public of his extensive knowledge in real estate, lending, investing, and life experiences. Tom feels that knowledge is a must. Due to his beliefs in being the best of the best in his field, Tom not only keeps up with the latest real estate market news but also spends countless hours every chance he gets to get familiar with the mortgage guidelines. He keeps up with the latest and greatest loan programs in the market to help his clients. He is probably the most knowledgeable real estate agent in the Chicagoland Area. He is unique and different from any other realtor. This is because he believes in having a one-stop realty shop. Since having the right knowledgeable experienced lender is key in closing homes, he has partnered up with Dale Elenteny of Gustan Cho Associates. Dale has a national reputation for knowing his mortgage lending guidelines from his two-plus decades in the mortgage business. There are countless mortgage loan officers who are still a fan of Dale Elenteny and they still contact Dale for his expertise on loan scenarios. Dale Elenteny of Gustan Cho Associates can be reached at 630-479-2719 or text Dale for a faster response. Or email Dale Elenteny at [email protected] We are pleased and proud of having Thomas Falloon as part of  Gustan Cho Associates and look forward to his future articles in the days, weeks, and months to come. Thomas Falloon can be reached on his cell at 708-525-6308.
This BLOG On Helping Your Realtor And Lender Help You Was UPDATED on April 18th, 2022