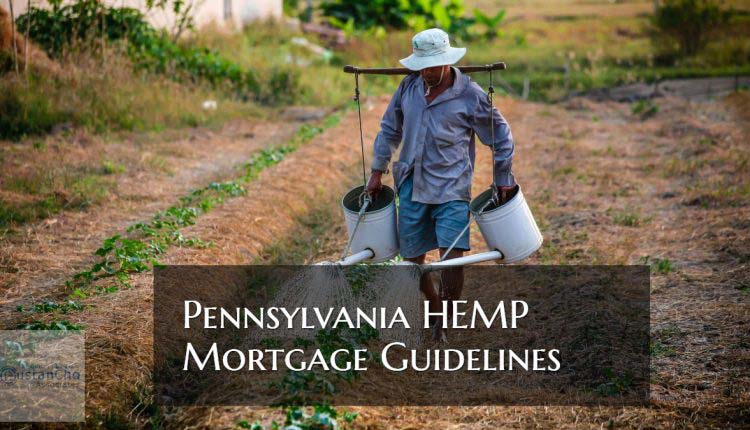 Pennsylvania HEMP Mortgage Guidelines
This BLOG On Pennsylvania HEMP Mortgage Guidelines For Farmers Was PUBLISHED On February 19th, 2019
Pennsylvania Hemp Mortgage Guidelines For HEMP Farmers:
In the past many lenders as well as lending agencies have not been favorable to the use of hemp-based products.
Many suppliers and Distributors of hemp-based products have not been allowed to use that income to qualify for a mortgage
Many times, the funds would not even be allowed for down payment on home purchase
This is because of the vast gray area surrounding the hemp and cannabis industry
Recently the state of Pennsylvania has come forth with black and white procedures
This is a big step in the right direction
These announcements came out February 15th, 2019
Pennsylvania HEMP Mortgage Guidelines Now Legalizes Income By HEMP Farmers
Pennsylvania recently made an announcement regarding its policies and the hemp industry.
Farmers can now qualify for a mortgage since HEMP is now legalized in the state of Pennsylvania
This is because illegal income could not have been used for mortgage income qualification
With the legalization of HEMP by Farmers, they can now use income derived by farming HEMP as qualified income
We are writing this blog in light of the federal agricultural Improvement Act of 2018.
New Law Into Effect For HEMP Farmers And Income Derived By HEMP-Related Products
The Pennsylvania Department of banking and securities, as well as the Pennsylvania Department agriculture, are providing clarification on providing banking services to the industrial hemp business.
We now know this as the 2018 farm bill, which removed Industrial Hemp from regulation under the controlled substance Act and provides commercial production
This is a huge improvement and Hemp is now covered under the federal crop insurance program.
Banking Relief For HEMP Industry
This federal act removes additional hurdles concerning State legalized hemp programs and now allows banking relationships and commercialization.
The statutory changes put in place by the farm bill now offer greater Clarity around the treatment of industrial hemp by Financial organizations
Given the changes on the federal level, Pennsylvania is now rescinding prior specific guidance on Industrial Hemp
Most importantly Banks and Credit Unions can more easily service industry and should continue to employ prudent risk management and comply with all state and federal banking requirements
In short, mortgage companies may now treat the hemp industry just like any other industry in America
According to Russell Redding, the Secretary of Agriculture, issued the following statement:
"Industrial Hemp represents an exciting new chapter in Pennsylvania agriculture, one that will provide increased opportunities for Growers and producers across the Commonwealth". Can you continue to say, "We at PDA look forward to working with our counterparts at Banking and securities, as well as lenders and Growers, to ensure that those opportunities are accessible and the necessary resources are made available to interested Pennsylvanians"

This is an important announcement to an industry that will be increasing over the years to come. Many banks have been hesitant due to federal law. the Farm Act is federal legislation, and we expect more states to make announcements such as this announcement from Pennsylvania. For any questions regarding Industrial Hemp, or any mortgage-related questions please contact Mike Gracz at 630-659-7644 or text us for faster response. Or email us at mgracz@gustancho.com.
Growers and producers of industrial hemp in Pennsylvania can visit the Pennsylvania Department of Agriculture's website for more information or contact their Bureau of Plant Industry at 717-787-4843.