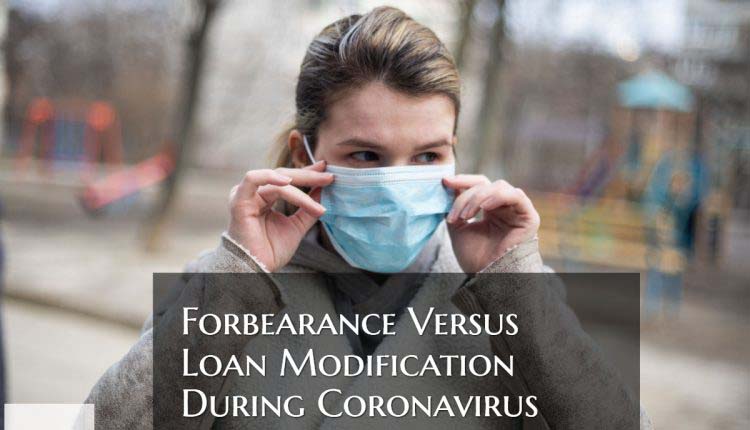 Forbearance Versus Loan Modification During Coronavirus Pandemic
BREAKING NEWS: Forbearance Versus Loan Modification During Coronavirus Pandemic
Forbearance Versus Loan Modification: President Trump signed the $2 trillion stimulus package last Friday, March 27th, 2020 to avoid further damage to the US economy from the nasty contagious deadly coronavirus pandemic.
Included in the $2 trillion coronavirus package is a relief for unemployed homeowners where they can instantly get a forbearance
Homeowners who are laid-off, fired, and/or unemployed for one reason or another due to the pandemic are eligible for a forbearance up to 12 months
What this means is they are exempt from paying their mortgage payments to their lenders during the coronavirus pandemic while they are not employed
Under federal law, lenders cannot report these borrowers late on their credit report
Therefore, it will not negatively impact their credit
Many homeowners are often confused between forbearance versus loan modification
The main purpose of this law was to prevent a flood of foreclosures due to non-payment
In this article, we will discuss and cover the benefits and differences between Forbearance Versus Loan Modification During Coronavirus Pandemic.
Difference Between Forbearance Versus Loan Modification
The difference between forbearance versus loan modification is that a forbearance, the lender will suspend the mortgage payments from borrowers for a short period of time.
The terms of the mortgage such as the interest rate and terms remain the same
Once the forbearance period is over, the borrower needs to pay the mortgage payments missed during the forbearance period
The missed mortgage payments during the missed payment period are not forgiven and need to be paid back
There are various ways the missed payments can be paid back
It depends on the lender on how they structure the mortgage forbearance
Some may require borrowers to pay back in one lump sum
Other lenders may spread the missed payments over a certain period of time
Before signing into a forbearance agreement, go over the terms of the forbearance with your mortgage servicer
Millions of Americans lost their jobs due to coronavirus pandemic
The US economy is temporarily shut down due to this deadly contagious pandemic
Millions of homeowners are expected to apply for forbearance with their mortgage services due to the economic meltdown in the US
A forbearance benefits homeowners who are temporarily laid off for one reason or another and are expected to return back to work with the same pay and terms from their employer.
Forbearance Versus Loan Modification: What Is A Loan Modification?
A loan modification is a form of restructuring a home mortgage.
Loan modifications benefit borrowers who had a drastic reduction in their household income and can no longer afford their current mortgage payment
In order to avoid foreclosure, they need to modify their current mortgage payments to a lower monthly payment schedule
The lender works with a borrower who needs a mortgage modified due to various financial reasons
The borrowers need to be employed to qualify for a loan modification
The lender may reduce the interest rate, forgive the amount in arrears, or extend the term of the loan. Lenders do not want to foreclose
Lenders would rather take a loss and modify a loan and have the borrower make timely payments
Lenders will initially allow borrowers to miss their current mortgage payments for a short period of time until a new payment structure is set up
The ability to repay the new loan after the modification is the most important factor for lenders granting a modification
There are various ways the lender can set up the new loan in a loan modification
They may lower the interest rate and extend the payment terms to lower the monthly payments
They may add the missed payments to the end of the mortgage term and extend the life of the loan
Homeowners who will be getting a permanent wage cut due to the coronavirus pandemic may need to request a loan modification versus a forbearance from their lender.
How The $2 Trillion Coronavirus Stimulus Helps Unemployed Americans
The $2 trillion stimulus bill was signed into law by President Trump on March 27th, 2020 to halt the economic meltdown during the coronavirus pandemic. This is phase three of the stimulus package. Included in this package are unemployed homeowners can ask for forbearance for up to 12 months. Americans can also ask for forbearance by their student loan providers and on their car loans. All federal debt payments are eligible for forbearance for unemployed workers. Fannie Mae and/or Freddie Mac owned properties are halted from foreclosure sales and evictions until May 17th and/or further notice. Creditors cannot report consumers to credit reports while they are on forbearance and/or exempt from paying their monthly debts. Unemployed workers can instantly qualify from making their mortgage payments for up to one year.
Mike Gracz of GCA Mortgage Group said the following:
The good news is mortgage lenders are quickly making accommodations. Mortgage giants Fannie Mae andFreddie Mac both have ordered lenders to be more flexible with borrowers, reducing or suspending payments for up to 12 months. That action alone covers half of the country's home loans. Other mortgage lenders are likely to follow suit eventually. But if your lender hasn't set new policies yet and you're facing an immediate mortgage crisis, there are steps you can take. First off, and most importantly, don't just stop paying your mortgage. Reach out to your lender and work with them to create a payment plan. That's as easy as making a phone call. Check with your lender to see if this might be the case. Both Fannie Mae and Freddie Mac are ordering lenders to work with borrowers on a permanent plan to maintain or reduce monthly payments as necessary.
The mortgage industry is in major chaos. Many lenders have canceled mortgage rate locks and clear to close on lower credit profile borrowers. All non-QM lenders have suspended operations until further notice. Angel Oak Mortgage Solutions, one of the largest non-QM lenders, has laid off 200 out of their 275 man workforce and suspended operations for the next two weeks. Yet other non-QM lenders have gone out of business.
Resource For America's Largest Mortgage Servicers 
Whoever your mortgage servicer is, contact them directly if you are not able to make your mortgage payments due to unemployment. Last week's unemployment claims came in over 3 million. This week is expected to be higher. Unemployment is expected to continue until the coronavirus outbreak is under control and a cure has been developed.
Below are the largest mortgage services in the US:
This breaking news is a developing story. GCA Mortgage Group will keep our viewers updated on upcoming developments in the coming days and weeks. Stay Tuned!!!