Buying Home Near Schools For First-Time Homebuyers
Gustan Cho Associates are mortgage brokers licensed in 48 states
In this blog, we will discuss and cover buying home near schools for first-time homebuyers. There are pros and cons of Buying Home Near Schools. Buying Home Near Schools is like having a neighbor that has students congregate Monday through Fridays from 8 in the morning and by 4 pm, they all leave. This will happen 9 months out of the year.
Issues With Buying Home Near Schools For Homebuyers
Homeowners buying home near schools need to deal with high traffic during school hours. However, there are perks and benefits. Security is one of them. Daily police presence. Other advantages in buying home near schools, snow plowing will get priority over other streets when it snows. Depending on the type of school, there may be a playground system for your children to play. With benefits come negatives as well too. In this blog, we will discuss the pros and cons of buying home near schools.
Considerations Of Buying Home Near Schools
Prior to making a purchase offer of buying home near schools, you need to take several factors into consideration.
What type of school is it?
Elementary?
Junior High School?
High School?
College?
University?
Technical School?
Specialized School?
Training Center?
Will your children be attending the school?
Is the home in a city or suburb?
Is it in a rural area?
If your children will not be attending school then it may be considered a disadvantage. Realize that disadvantages of buying home near schools are increased traffic, pollution, many people walking in your neighborhood daily. If it is high school, you will see much more traffic. Teenagers like doing a burnout. Teenagers like to speed. 
Benefits Of Buying Home Near Schools
Most housing experts believe that the pros outweigh the cons of buying home near schools. Michael Gracz, a senior loan officer at Gustan Cho Associates grew up next to a public school growing up. This is what Mike Gracz said:
Here in the coveted suburbs, living next to or near a school was a big plus for me when I was growing up. I was able to walk to school every day. I was able to come home for lunch one or two days out of the week. My parents allowed me to come home for lunch. They were not too concerned about traffic because there were a team of school resource officers who was monitoring traffic. The speed zone was 20 miles per hour. I was always able to participate for school activities because I did not need a ride to school like most of my classmates.
What Experts Say About Buying Home Near Schools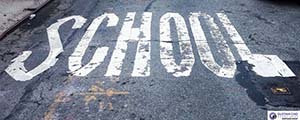 There are varied views by experts on living near schools. Alex Carlucci of Gustan Cho Associates said the following:
Schools matter in two ways. They are an important determinant of choice of a community for a family, but a lot of this gain is a signal about the socioeconomic status of a community. . . . So people will pay a premium for better school performance and higher socioeconomic neighbors. But a home next to, or near, a school in a modest neighborhood may be just as desirable. I never heard, 'I don't want to be next to a school. The neighborhood of small ranches and little Capes is attractive to young families, regardless of education or income level. People say they don't want to be next to a highway, near railroad tracks, a hazardous waste site, or a gas station. No one has ever said to me, "I don't want to be next to a school.' But in some communities, the question of living near a school is beside the point. You really can't go anywhere in the city without being close to a school. Living near a school isn't for everyone, however. Heavy traffic, including idling cars and the arrival and departure of buses twice a day. Bright lights at night. The ping of metal bats when your yard and a playing field share a property line. All of these can rob a homeowner of peace and privacy. If we were to consider it, we would take a far more critical look at the situation than we had last time.
Making The Final Decision
Making a decision in buying home near a school is not negative like buying a home near power lines, busy roads, apartment complexes, railroad tracks, or airports. There are many benefits that overcome the negatives. Many home buyers with small children want to purchase a home near an elementary school. They can walk to school. There are playgrounds for their children to play in. Many school basketball courts and baseball fields where children can play year-round. The only negative is the neighborhood being busy during school hours and potential noise.