Bankruptcy For Illinois May Be A Possible Solution To Save The State
Gustan Cho Associates are mortgage brokers licensed in 48 states
 BREAKING NEWS: Bankruptcy For Illinois May Be A Possible Solution To Save The State
Bankruptcy For Illinois may be an option for the state due to their many years of financial mismanagement. Illinois, along with a few other states, has been struggling with budget deficits for many years.
Prior to the coronavirus pandemic, the U.S. economy was stronger than ever
Most states have enjoyed growth and substantial surplus due to the strong economy
Neighboring states like Indiana, Ohio, Kentucky, Tennessee, Wisconsin, Michigan, Iowa had strong economic growth and had a budget surplus
However, Illinois was struggling like never before
Illinois Governor J.B. Pritzker has been losing popularity due to his pro-tax policies in trying to fix the financial crisis of Illinois
Pritzker doubled the gas tax in Illinois, and not only has raised taxes on over 20 line items but also created new taxes
He has been lobbying strongly for Illinois to become a progressive tax state
In the meantime, countless businesses and individual taxpayers are fleeing Illinois to other lower-taxed states
Many critics of freshman governor Pritzker blame inexperience and incompetence for his pro-tax ideology
More and more Illinoisans are becoming worried about Pritzker's actions
Raising and increasing taxes is one way of increasing revenues
However, the freshman governor seems to keep on spending and has no intention of cutting spending
He has recently approved a $261 million pay raise for high-level state workers
Pritzker also approved salary increases for state lawmakers
Illinois was facing a major financial crisis due to its pension fund shortage prior to the coronavirus pandemic
Illinois ranks as one of the states with the highest taxes
Illinois ranks are in second position with the highest property taxes
After the pandemic, the state may be near bankruptcy
J.B. Pritzker has been hinting for the federal government to bail the state out
However, the federal government has absolutely no interest in bailing financially mismanaged states like Illinois
In this breaking news article, we will discuss and cover the question of can Bankruptcy For Illinois May Be A Possible Solution To Save The State.
McConnell Suggests Bankruptcy For Illinois And Other Financially Mismanaged States
J.B. Pritzker has been hinting the federal government bailout Illinois's dysfunctional pension system due to the coronavirus pandemic.
Pritzker has been trying to include the state's financial deficit as part of the federal coronavirus pandemic economic relief aid
Not so fast said Senate Majority Leader Mitch McConnell
The Kentucky senior senator presented that bankruptcy for Illinois and Chicago could save the financially strapped state
However, Democrats did not like the idea of bankruptcy for Illinois
Pritzker said bankruptcy for Illinois is out of the question
Many state Democrats agreed
McConnell and the Trump Administration thought the idea of bailing out the state and the city of Chicago due to their financial irresponsibilities is out of the question
Illinois has been running on a deficit year after year
The main reason is financial mismanagement
Many lawmakers do not realize it is not how much revenue you take in but rather how much you spend. It is basic economics and math 101
Unfortunately, Pritzker and the state's Democrats do not realize this and keep on raising taxes and spending more money
Illinois had financial problems even prior to the pandemic outbreak while other states like Indiana, Kentucky, Tennessee, Georgia, Texas, Florida, and countless others were thriving with hefty reserves
There is no doubt the coronavirus pandemic has hurt all states financially
However, Illinois and a few other states, the pandemic has devasted their state where bankruptcy is a viable option for them to get back on their feet.
Pritzker's Solution To Solve Illinois' Financial Crisis
Illinoisans had high hopes when J.B. Pritzker got elected. However, within months, many Illinoisans had voter's remorse.
Illinoisans figured that Pritzker was a great businessman due to being a billionaire heir to the Hyatt Hotel chain
People thought with his business expertise, the new freshman governor can turn things around for Illinois
Unfortunately, it seems the competence and business experience backfired
It seemed like Pritzker had no business knowledge and was narrow-minded
His main solution in fixing the state's finances was to not just raise taxes but create new taxes
Pritzker doubled Illinois gas tax while signing a bill for wage increases to state lawmakers
Pritzker just gave pay raises totaling $261 million to high-level state employees
Pritzker is proposing changing the current state's flat tax to a progressive tax system
Economists and analysts predict changing the state's tax system to a progressive tax system will create a flood of wealthy and high-income earners to flee Illinois to other lower-taxed states
Many critics feel Pritzker is a major liability for Illinois and is clueless and lost and needs to be replaced immediately
While other governors are thinking of reducing and cutting taxes, Pritzker is the opposite. He wants to raise and increase taxes even during the coronavirus pandemic crisis.
Why Bankruptcy For Illinois Is Inevitable
Pritzker and state lawmakers have no intention of cutting spending. They keep on raising taxes on businesses and Illinois. Illinois is one of the top states where there is a flood of businesses and taxpayers fleeing to other lower-taxed states. Neighboring Indiana is thriving due to the mass migration of businesses and residents from Illinois. Indiana has very low taxes and is enjoying a healthy economy and a huge budget surplus. Massimo Ressa of Gustan Cho Associates has been studying the mass out-migration of Illinoisans.
Massimo Ressa said the following:
Without bankruptcy, what happens is that people continue to leave, the debt gets bigger, the taxes get higher and the spiral continues. You're just stuck in a spiral and everything just gets worse. We have seen that even in the last decade where we had arguably the best economic growth ever, we saw Chicago's (public worker pension liabilities) get dramatically worse. We saw the state's (pension liabilities) get dramatically worse. And now that we're in the down cycle, it's going to collapse further. State and city finances were overwhelmingly negative even before the coronavirus pandemic caused a business shutdown. Now the revenue stream is bone dry. And Illinois did not have a rainy-day fund to begin with. Taxpayers see what is happening. And now they're out of work. For years they've been fleeing the state in droves as part of the Great Illinois Exodus. I'm not saying bankruptcy is the only option. I'm willing to entertain other ideas. I love Illinois and Chicago like many of you do and want public retirement pensions to be saved. But except for childish dreams about unicorns or Gov. J.B. Pritzker's demand for an income tax increase that will drive even more people out of Chicago and Illinois, there isn't much left but political wind.
J.B. Pritzker said bankruptcy for Illinois is out of the question. Pritzker said he will not consider bankruptcy for Illinois. He said it is the duty of the federal government to aid Illinois during time of a national financial emergency. The federal government is helping all states and taxpayers only economic damage due to the coronavirus. The federal government will NOT help states like Illinois due to financial irresponsibility and mismanagement.
No Way Out But Bankruptcy For Illinois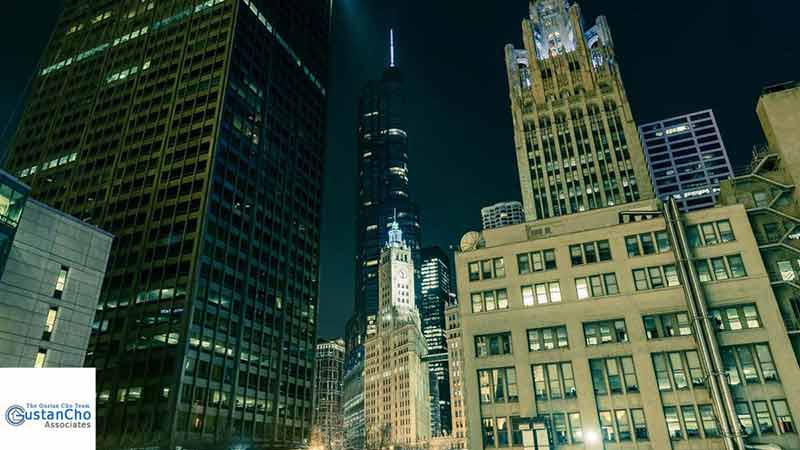 As mentioned earlier, the U.S. economy was stronger than ever prior to the coronavirus pandemic.
Most state governments were thriving. Indiana was taking in floods of Illinoisans due to the state's low taxes and lower cost of living
Property taxes in Indiana are a third of a comparable home in Illinois
The Republican-led state is still in a strong position than its neighbor Illinois
Dale Elenteny of Gustan Cho Associates is a bankruptcy expert and has been following Illinois's financial irresponsibility and mismanagement.
Dale Elenteny said the following:
For states to declare bankruptcy would require changes in federal law. All Chicago, or Harvey or East St. Louis would require is a majority vote of the state legislature. McConnell was reacting to a ham-handed ask from Illinois Senate Democrats hoping to use the coronavirus pandemic as a shameless excuse for a bailout of decades' worth of their political misdeeds by not funding state worker pension plans. I think this whole business of additional assistance for state and local governments needs to be thoroughly evaluated. According to Mitch McConnell, there's not going to be any desire on the Republican side to bail out state pensions by borrowing money from future generations. McConnell said he would certainly be in favor of allowing states to use the bankruptcy route. He said it saves some cities. And there's no good reason for it not to be available.
Bankruptcy for Illinois is not the end of the world. It is not the first time city, county, state government contemplated bankruptcy. Detroit, Michigan was under financial crisis just like Chicago is today. However, due to Detroit filing bankruptcy and reorganizing, the city has a second chance. The city came back stronger than ever after bankruptcy. Using Detroit's model, bankruptcy may save Chicago. Chicago is the highest taxed major city in the United States. Due to financial irresponsibility and incompetent politicians, the city is in a major financial crisis.
Pritzker Is Confident The Federal Government Will Bail Illinois Due To Coronavirus Pandemic
Illinois, as well as other states, will be getting billions of dollars in federal aid due to the coronavirus pandemic impact on the economy.
However, J.B. Pritzker is trying to sneak in the major pension debt shortage as part of the coronavirus pandemic assistance request
Pritzker may think he is sly but it is not going to work
New York, Illinois, and a handful of other states are states with mismanaged finances
However, the federal government will not be assisting states who have financially mismanaged their finances
While Pritzker is asking billions of dollars in aid, he is slamming President Trump at the same time
Not a smart move for the Illinois governor
Illinois pension debt is over $250 billion with the numbers substantially increasing year after year
Piotr Bieda of GCA Mortgage Group News & Media Division said the following:
Whether bankruptcy could apply to Illinois and its pension problems would require a ton of legal wrangling. But a federal judge would make tough decisions that politicians don't have the guts to make on who gets what. It wouldn't be easy. Public worker union bosses don't want to take a hit. And big-shot bond investors don't want to take a hit. Yet what about the rest, the majority of taxpayers who aren't big bond investors who can get the governor on the phone, or public union bosses who elect governors and mayors? Why should we keep taking the hit, and bleeding, and being forced to leave our homes? Many see this simply as a McConnell ploy, to throw the Illinois Democratic Party's absurd request for a federal pension bailout back into Illinois Democratic laps. But crisis means opportunity. Years ago, I took heat for saying on a panel discussion at the City Club of Chicago that bankruptcy was a way out for a Chicago without the political will to survive.
Pritzker is pushing for a progressive income tax for Illinois. However, many economists feel a progressive income tax in Illinois will turbo-boost Illinois' road to bankruptcy.
Politics Versus The Best Interest For Financially Stressed States
Illinois and New York are the top two states in deep financial crisis. Experts say that raising taxes normally backfire on states that are under financial distress. Ego and not having an open mind is what is driving Illinois, New York, and other states in financial distress. The key is to attract new businesses and taxpayers for states to be financially strong. No new businesses and/or individual taxpayers will be moving to states like Illinois with high taxes. Many police officers, firefighters, and public service workers often leave Illinois once they retire from the government jobs to other states with lower taxes. This is a double whammy for Illinois.
Michael Gracz the National Sales Manager at Gustan Cho Associates said the following:
The problem of course is politics. The Democrats and some Republicans rely on public worker unions — state and city employees — for votes. The politicians take good care of the public worker unions — I'm not talking about union electricians, carpenters, and plumbers, etc. — and the public unions vote the politicians in election time. This is what's breaking us. I'm not trying to be mean. I'm just trying to be factual. You've got one class of workers in this state with guaranteed long-term contracts, with guaranteed pay and guaranteed pensions, that's a big class. And there's a second class that doesn't have any of those protections, the private sector, they've lost their jobs (due to the coronavirus shutdown), we'll be getting to the point where we'll have close to a million job losses soon, losing pay, and yet they're still required, right now to continue to pay for that first class. So as long as that system exists, we'll never get out of it.
This is a breaking story. Gustan Cho Associates will keep our viewers updated on new developments in the coming days and weeks.