---
Gustan Cho Associates empowered by NEXA Mortgage, LLC is licensed in 48 states with over 170 wholesale lender networks with access to hundreds of different types of mortgages. There is a reason why GCA Mortgage has a reputation of being a one-stop mortgage shop. The team at Gustan Cho Associates is known by countless borrowers and realtor partners as being able to do mortgages other lenders cannot do. Over 75% of our borrowers are folks who could not qualify at other lenders due to lender overlays, stress during the underwriting process, last-minute mortgage denial, high rates, or the lender not having the mortgage program they need.
What Are Non-Prime Mortgages?
Non-Prime Mortgages are non-conforming loan programs. Non-QM and alternative loan programs are non-prime mortgages. Non-prime mortgages do not require private mortgage insurance, have no maximum loan limits, and the approval is based on the down payment and higher mortgage interest rates. Gustan Cho Associates merged with NEXA Mortgage, LLC on February 24th, 2022 due to a die-to-for mortgage platform and foundation: States, Products, Rates. The merger of NEXA Mortgage LLC dba Gustan Cho Associates put the team at GCA Mortgage on a national level with being licensed in 48 states including Washington DC and Puerto Rico. Over the years, many borrowers and realtor partners told us they did not realize a team of mortgage professionals existed and suggested we expand nationwide. From being licensed in 20 states, Gustan Cho Associates made the request of our fans for us to expand to 50 states became a reality.
What Are The Different Types of Mortgages?
The team at Gustan Cho Associates is booming with record-breaking new mortgage loan applications and closings when other lenders are barely surviving with layoffs due to surging inflation and exploding historic high rates. We thank our borrowers and realtor referral partners for our explosive growth year after year since 2012. No words of how the team at Gustan Cho Associates appreciates the faith, trust, and loyalty in giving us the opportunity to make their dream of homeownership become a reality.
Do Lenders Have Different Requirements for Same Loan Program?
The customer is always right. Due to customer demand and requests that we can help more people in the nation, Gustan Cho Associates can now do business in 48 states (not yet licensed in Massachusetts and New York). We have doubled our business year after year since 2012 and now expect to forecast revenues north of one billion dollars a year. In the following paragraphs, we will cover the types of mortgages Gustan Cho Associates has to offer our loyal clients.
Different Types of Mortgages For Bad Credit Borrowers
Is probably the biggest investment for most people. Homebuyers, especially first-time homebuyers are often excited and nervous at the same time when purchasing a new home and qualifying for home purchase loans. There are a lot of considerations to consider when purchasing a home. Gustan Cho Associates is a one-stop mortgage shop and real estate information resource center where our goal is to educate and offer the opinions of our expert writers who are real estate and mortgage industry professionals who are experts in their fields. There are various types of home purchase loans for home buyers.
What Are The Six Types of Mortgages For Homebuyers 
There are various types of mortgages. The list below briefly explains the type of loan program available today:
FHA Loan
FHA loans are by far the most popular home loans for owner-occupied homebuyers.
You can qualify for a 3.5% down payment FHA loan with a minimum credit score of 580 FICO.
You can have outstanding collections and charge off accounts and can qualify for an FHA loan without having to pay them off.
VA Loans
VA loans are probably the best mortgage loan program available today
VA loans are only available to veterans of the United States Armed Services with a Certificate of Eligibility in good standings
VA loans do not require any down payment and there is no mortgage insurance premium required.
USDA Loans
USDA Loans are limited to areas throughout the country that is designed as rural by the Department Of Agriculture.
USDA Loans do not require any down payment on a home purchase
USDA has a cap on the maximum household income to qualify for a USDA loan.
Conventional Loans
Conventional Loans are also called conforming loans.
Conventional loans are called conforming loans because they need to conform to Fannie Mae and/or Freddie Mac Lending Guidelines.
The minimum credit score required to qualify for Conventional loans is 620 FICO.
Those needing a second home and/or investment home loan need to go with a Conventional loan or non-QM loans
FHA, VA, and USDA loans are only for owner-occupied primary mortgage loans.
Government mortgages are not available for second home financing or investment property loans.
Jumbo Mortgages
There are different types of mortgages for high-end properties.
Any mortgage loan that is higher than the conforming loan limit of $647,200 is considered a Jumbo Loan or a nonconforming loan.
GCA Mortgage has traditional and non-prime jumbo loans for our borrowers.
Jumbo mortgages have tougher lending requirements than other loan programs
Jumbo loans are considered higher-risk loans due to the larger loan amounts.
High-end properties take longer to sell in the event the lender forecloses on the property.
Traditional and Non-Prime Jumbo Mortgage Options
We have shared some useful links on traditional versus nonprime jumbo mortgages below:
Best Types of Mortgages For First-Time Homebuyers
Qualifying for home purchase loans is not as difficult as many folks think it is. The first professional advice home buyers need to seek when considering buying a home is consulting with a mortgage lender. Most homebuyers think of going to their local bank for a mortgage loan. However, most banks have tougher mortgage lending requirements than other types of mortgage lenders.
Mortgage For Bad Credit Homebuyers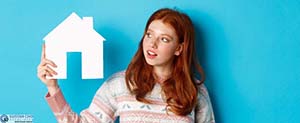 If you have lower credit scores, prior bad credit, or higher debt-to-income ratios, you may want to consult with a mortgage lender with no mortgage lender overlays. Mortgage lender overlays are mortgage lending guidelines that surpass the federal minimum mortgage lending guidelines. For example, the minimum credit score on FHA Loans is 580 FICO.  Many FHA-approved mortgage lenders have their own investor overlays.
FHA Loans With Under 620 Credit Scores
The majority of FHA lenders will not touch a borrower who has credit scores of under 620 FICO.  This higher requirement on credit scores by a lender is called a lender overlay on credit scores. Many home buyers who get turned down by their local bank due to not meeting the bank's minimum credit score requirements are not told by the loan officer at the bank that they do not qualify at the bank but may qualify at other mortgage companies.
Best Mortgage Lenders For Bad Credit
There are many potential homebuyers who just give up shopping for a mortgage because they think that just because they got denied by their local bank, they do not qualify elsewhere. A large percentage of mortgage loan borrowers who have credit scores under 620 FICO may not qualify for a mortgage loan at banks and other mortgage companies that have overlays, but the fact is that they will qualify for a mortgage with a mortgage lender who does not have lender overlays on credit scores.
---