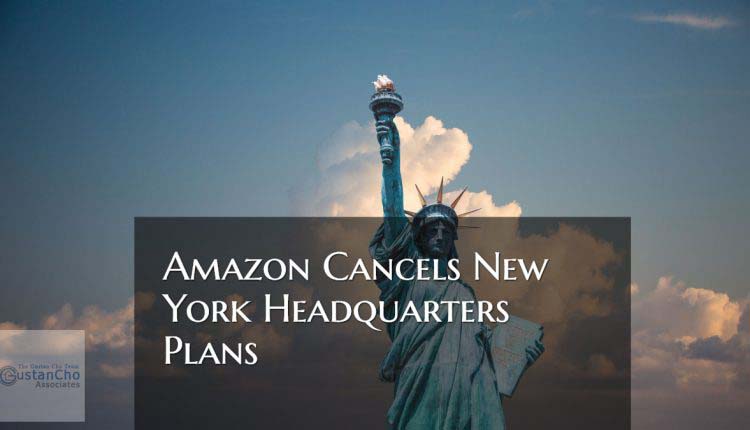 Amazon Cancels New York Headquarters Plans Affects Real Estate Market
This BLOG On Amazon Cancels New York Headquarters Plans Affect Real Estate Market Was Published On February 15th, 2019
Amazon Cancels New York Headquarters Plans on Thursday February 14th, 2019. Many builders and real estate developers had plans for months in developing thousands of housing units. Over 25,000 high paying new jobs would have created a demand for higher priced housing throughout the state of New York and neighboring New Jersey and Connecticut. Amazon Cancels New York Headquarters Plans in Queens New York stunned both Governor Andrew Cuomo and New York City Mayor Bill De blasio. Main reason for Amazon Cancels New York Headquarters Plans in Queens was due to local opposition.
Amazon spokesperson Jodi Seth released the following statement:
"After much thought and deliberation, we've decided not to move forward with our plans to build a headquarters for Amazon in Long Island City, Queens."
The Washington Post first reported last week that Amazon was having second thoughts in canceling the move to Queens New York. Yesterday's announcement made the cancellation official. The company already has 5,000 plus Amazon employees in New York and will continue to raise that number in years to come. However, the second Amazon headquarters will not be located in New York. This affect over 25,000 high paying jobs and the economic real estate boom that these folks will have fueled to the economy.
Mayor Slams Amazon Cancels New York Headquarters Plans
New York City Mayor Bill de Blasio criticized the corporate giant for canceling plans to moving to New York.

De blasio said the following:
"You have to be tough to make it in New York City. We gave Amazon the opportunity to be a good neighbor and do business in the greatest city in the world. Instead of working with the community, Amazon threw away that opportunity. We have the best talent in the world and every day we are growing a stronger and fairer economy for everyone. If Amazon can't recognize what that's worth, its competitors will."
Amazon planned on investing $2.5 billion dollars for its New York offices.
New York Governor Andrew Cuomo also issued a statement:
"Amazon chose to come to New York because we are the capital of the world and the best place to do business. We competed in and won the most hotly contested national economic development competition in the United States, resulting in at least 25,000-40,000 good paying jobs for our state and nearly $30 billion dollars in new revenue to fund transit improvements, new housing, schools and countless other quality of life improvements. Bringing Amazon to New York diversified our economy away from real estate and Wall Street, further cementing our status as an emerging center for tech and was an extraordinary economic win not just for Queens and New York City, but for the entire region, from Long Island to Albany's nanotech center.

However, small group politicians put their own narrow political interests above their community — which poll after poll showed overwhelmingly supported bringing Amazon to Long Island City — the state's economic future and the best interests of the people of this state. The New York State Senate has done tremendous damage. They should be held accountable for this lost economic opportunity. The fundamentals of New York's business climate and community that attracted Amazon to be here – our talent pool, world-class education system, commitment to diversity and progressivism – remain and we won't be deterred as we continue to attract world-class business to communities across New York State."
The Blame Game Due To Amazon Cancels New York Headquarters Plans
Cuomo blames the New York State Senate Majority Leader Andrea Stewart-Cousins in Amazon changing its plans and leading the opposition group.
New York stands to lose billions of dollars in tax revenues form Amazon changing its plans. This move by Amazon would have brought 25,000 to 35,000 high paying jobs. It will have brought housing development, new sales, and income taxes.
Amazon has selected Northern Virginia as its second corporate headquarters. Unlike New York politicians, politicians in Virginia has welcomed the corporate giant with open arms.
Amazon Cancels New York Headquarters Plans And Issues The Following Statement

Here is a statement issued by Amazon:
After much thought and deliberation, we've decided not to move forward with our plans to build a headquarters for Amazon in Long Island City, Queens. For Amazon, the commitment to build a new headquarters requires positive, collaborative relationships with state and local elected officials who will be supportive over the long-term. While polls show that 70% of New Yorkers support our plans and investment, a number of state and local politicians have made it clear that they oppose our presence and will not work with us to build the type of relationships that are required to go forward with the project we and many others envisioned in Long Island City. We are disappointed to have reached this conclusion-we love New York, its incomparable dynamism, people, and culture-and particularly the community of Long Island City, where we have gotten to know so many optimistic, forward-leaning community leaders, small business owners, and residents. There are currently over 5,000 Amazon employees in Brooklyn, Manhattan, and Staten Island, and we plan to continue growing these teams. We are deeply grateful to Governor Cuomo, Mayor de Blasio, and their staffs, who so enthusiastically and graciously invited us to build in New York City and supported us during the process. Governor Cuomo and Mayor de Blasio have worked tirelessly on behalf of New Yorkers to encourage local investment and job creation, and we can't speak positively enough about all their efforts. The steadfast commitment and dedication that these leaders have demonstrated to the communities they represent inspired us from the very beginning and is one of the big reasons our decision was so difficult. We do not intend to reopen the HQ2 search at this time. We will proceed as planned in Northern Virginia and Nashville, and we will continue to hire and grow across our 17 corporate offices and tech hubs in the U.S. and Canada. Thank you again to Governor Cuomo, Mayor de Blasio, and the many other community leaders and residents who welcomed our plans and supported us along the way. We hope to have future chances to collaborate as we continue to build our presence in New York over time.
City Councilman Eric Ulrich made the following statement:
"It never ceases to amaze me how the loud voices of a few could destroy the chance at a better life for so many. Amazon had big plans in store for the borough of Queens, and we blew it! They were going to invest in our future, hire locally, contribute to the community, and make the greatest city in the world even greater…This sets a bad precedent moving forward and will deter other companies from setting up shop in our city."
City Council Speaker Cory Johnson made the following statement:
"I look forward to working with companies that understand that if you're willing to engage with New Yorkers and work through challenging issues, New York City is the world's best place to do business. I hope this is the start of a conversation about vulture capitalism and where our tax dollars are best spent. I know I'd choose mass transit over helipads any day."
Issues Facing New York
Many people are leaving New York for other states with low property taxes. New York has lost 1.5 million residents from 2008 to 2017. New York ranks as the number one state in residents and businesses leaving the state to other states with lower taxes. Not only are residents leaving the state of New York, but so are businesses. Many New York businesses and corporations are locating to states with lower taxes. States with low property taxes such as Texas, Florida, Georgia, Indiana, Virginia, Kentucky, Colorado, Mississippi are welcoming both New York residents and businesses with open arms. New York has a shortfall of more than $2 billion dollars in taxes due to residents and businesses relocating to other states with lower taxes.